Review Date: January 25th, 2008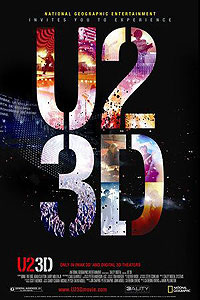 An entirely new sensory experience, U2 3D elevates the concert movie to a new plateau.

Story

U2 has long been one of America's most progressive bands, with Bono also in rarefied world of humanitarians. This same ambitious genre-bending attitude is applied to U2 3D's execution. As director Catherine Owens notes in press materials, U2 3D is "somewhere magical." Concert movies have been format-dormant for years, caught in the stadium or amphitheater-set 2D framing. Testing for U2 3D started in 2005, when 3ality Digital, a company specializing in live-action 3D production, shot a U2 concert in Anaheim, CA, but U2 3D was finally filmed at the band's 2005-06 Vertigo tour in South America and Mexico. The technology is world-class and creates visceral emotion, catapulting the viewer from the theater to the wild setting of a U2 concert. The difference is startling--little things like concert-goers holding their arms up or throwing balls in the air in several dimensions is a new interpretation. When visual effects combine with lights, it brings a new emotion to the music with little effort. The concept is magnificent, and one can't help think--why haven't they done this before? It's not a surprise that Hannah Montana has a similar Best of Both Worlds 3D movie coming in February.

Acting

U2's three members--Bono, The Edge and Larry Mullen--are bathed in a holy kind of aura with the film's framing. They tear through 13 songs in less than 90 minutes, with the ease like they were having an intimate conversation with one person. Using sparse, elegant stages to walk out into the audience, band members are illuminated like mortal messiahs, swaying a huge group of people under their influence. When The Edge does solos on the song "Where the Streets Have No Name," his rock-star coolness communicates a life's mission to music--aiming to bring a "coexist" unity to the audience, as Bono's headband says. They play their music with such originality and vitality, as if they are playing the songs for the first time, and when you see this Irish band rocking such a big audience in South America, you realize how universal U2's appeal is.

Direction

Having had the experience of filming other U2 live concerts, including their ZooTV, PopMart and Elevation tours, director Catherine Owens brings an elegant touch to the Vertigo tour. This is what every director (or artist) should strive to achieve. 3D films are making a small comeback (Beowulf), and U2 3D uses that technology to create a destination experience film. Owens enlisted IMAX producers Jon and Peter Shapiro, as well as digital expert Steve Schklair to round out her team. The song list is split evenly (somewhat unwisely) between new songs (such as "Original of the Species" and "Love and Peace or Else") and hits ("Sunday Bloody Sunday" and "With or Without You"), and the synthesis of digital technology is effortless and futuristic, signaling a new era of concert movies. Owens' intimate familiarity with U2 also brings a lifetime of appreciation to the band's mission. An outstanding effort that must be experienced on the big screen.

Bottom Line

Hollywood.com rated this film 3 1/2 stars.