Review Date: April 4th, 2008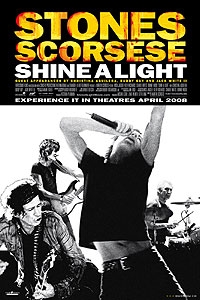 Get yer ya-ya's out for this second Rolling Stones IMAX concert film. Unlike the hits-heavy At the Max, though, this one is strictly for die-hard fans who know the words to "Loving Cup" and "Some Girls."

Story

The Stones previously employed such esteemed directors as Hal Ashby and Jean-Luc Godard to capture their raucous studio and onstage exploits on film. Martin Scorsese edited Woodstock, directed The Band's landmark concert film The Last Waltz, and used Stones classics in Goodfellas and The Departed. So it was inevitable that Scorsese and the Stones would eventually collaborate. Why they choose to name their concert film--shot in 2006 over two nights at the Beacon Theater in New York--after the Exile on Main St. track remains a mystery. There's little attempt to reveal anything new about how the Stones have laughed off "Steel Wheelchairs" jokes and accusations of irrelevancy to prevail for 46 years as "The Greatest Rock and Roll Band in the World." Shine a Light is just your typical concert film--albeit one shot for a five-story movie theater. Only it's not in 3D, like recent concert films by Miley Cyrus and U2. And so we're denied the opportunity of having the tongue from the Stones' iconic logo being wagged inches from our faces.

Still, as Scorsese effortlessly reaffirms, old age hasn't slowed down Mick Jagger, Keith Richards, Charlie Watts and Ronnie Wood. They work a stage harder than any of the current pop idols who weren't even born before At the Max began its run in 1991 (yes, you, Ms. Cyrus).

Acting

The lines that were very much evident on Jagger's face in At the Max now appear to be as deep as ravines in Shine a Light. But the lanky sexagenarian still possesses the vim and vigor to strut like a peacock during mating season. And his voice is as potent today as it was when he first requested "Sympathy for the Devil." As for the other Glimmer Twin, Richards looks like he's just staggered off the set of the last Pirates of the Caribbean, what with his black eyeliner and headscarf. Still, it's entertaining to watch Richards play up--and poke fun at--his "living corpse" persona. Oh, and if you find yourself in need of a bathroom break, wait until the guitarist croaks his way through "Connection" and "You Got the Silver." As usual, Watts and Wood leave the spotlight to Jagger and Richards. There are some special guests: President Bill Clinton introduces the Stones. A tinny Jack White ruins "Loving Cup." Bluesman Buddy Guy steals a cover of Muddy Waters' "Champagne and Reefer" from Jagger. But pity Christina Aguilera, who holds her own against a lecherous Jagger on "Live With Me." X-tina's no prude, but that doesn't make it any less creepy watching Sir Mick bump and grind with a pop tart young enough to be his granddaughter.

Direction

In the days and hours leading up to the concert, an agitated Scorsese begs for the set list. He gets it seconds before the Stones take the stage. The opening song, "Jumpin' Jack Flash," isn't a sign of things to come. The Stones seem uninterested in satisfying those who bought Forty Licks for "Satisfaction"--at least until they start to wrap things up. Expect a dusting off of such lesser-known oldies as "All Down the Line," "Connection" and "Far Away Eyes." Scorsese pieces together the performances in a clear-cut and polished manner, with his attention firmly fixed on the energetic Jagger and the lumbering Richards. The Beacon Theater, which seats 2,880, provides a stark contrast to the stadium setting of At the Max. While its predecessor was all about pure spectacle, Shine a Light is a welcomed attempt to show what the larger-than-life Stones can do when squeezed into such an intimate setting. The interviews and archival footage are good for a laugh, but their inclusion proves to be superfluous. We know the age-defying Stones will roll on until they die. Scorsese would have been better served replacing them with more songs (like "Shine a Light," which is only heard over the end credits!). Then again, as Jagger's reminded us for years, we can't always get what we want.

Bottom Line

Hollywood.com rated this film 3 stars.