Review Date: August 13th, 2007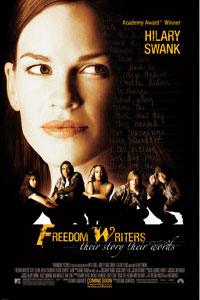 At times, Freedom Writers invokes genuine emotions, but this derivative teacher-inspires-troubled-kids movie mostly just pries your eyes open and jerks the tears out.

Story

Grab some tissues. Freedom Writers is based on the real-life experiences of Erin Gruwell (Hilary Swank), a fresh-faced, 23-year-old idealist who--a few years after the Rodney King/L.A. riots--takes a position as a freshman English teacher at an integrated, gang-ridden high school in Long Beach, Calif. At first, Erin doesn't have a clue on how to handle her racially charged class, but darn it, she's going to try everything she can to get through to them because she believes she can teach them. Slowly but surely, she begins to connect with the teenagers, ultimately encouraging them to keep a daily journal of their thoughts and experiences (the real book, Freedom Writers, was eventually published). In sharing their stories about the undeclared gang war on the streets, the kids break down the barriers and realize there are possibilities in life beyond just making it to 18 years old. See? There's a tear.

Acting

If the real Erin Gruwell is anything like how Swank portrays her, then, wow, she's one upbeat lady. On the one hand you want to slap her silly because she's just too damn perky, but on the other, you have to admire her perserverence and determination—and hope to hell there are more teachers like her out there. Of course, playing characters who have enormous willpower is old hat for Swank. I mean, she won her two Oscars for portraying just such women with spunk (Boys Don't Cry and Million Dollar Baby). But it's refreshing to see her wearing pearls and a dress this time around. There are some nice supporting turns by British actress Imelda Staunton, donning an American accent, as an unsympathetic tenured teacher; Scott Glenn as Erin's supportive dad; and Patrick Dempsey, Grey's Anatomy's McDreamy himself, as Erin's neglected husband. The kids sort of all blend together as a diverse collective, with no real standouts.

Direction

Being that Freedom Writers--and others of its ilk, i.e.Dangerous Minds, Stand and Deliver--is based on a true story about a teacher who gets urban kids motivated lends some credibility. Why else would they keep making the same movie over and over again? Writer/director Richard Lagravenese--known more for his screenplays (The Fisher King, The Horse Whisperer) than his directorial feature efforts (just one, Living Out Loud)—wields the camera again and manages to hit some of the right points. It'll get to you at times, especially when Gruwell has the kids read The Diary of Anne Frank and teaches them about the Holocaust, something they unbelievably had never heard of. But much of the sentimentality is forced, with all the "you don't get us at ALL, white lady" rants and the "you ARE something special" speeches. As much as Freedom Writers wants to make an impact, its countless predecessors about the horror of gang life dampen its chances to do so. It may, however, inspire a new teacher to make a difference.

Bottom Line

Hollywood.com rated this film 2 stars.