Review Date: January 6th, 2006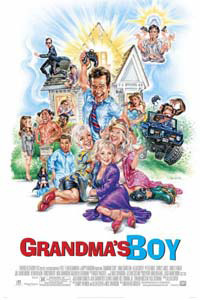 The raunchy R-rated Grandma's Boy combines pot-smoking, big breasts, African bushmen, octogenarians, video-gaming techno-geeks--and one inappropriate masturbation scene--in one feel-good movie perfect for teenage boys. If they can get in, that is.

Story

As inane and half-baked as Grandma's Boy is, it does have some redeeming qualities. The film revolves around Alex (Allen Covert), a 35 year-old former accountant and current pothead, who is following his dream of designing his own video game. His day job is testing video games for a gaming company filled with boys barely shaving (I can just hear the guys in the audience now: "Man, how can I get THAT job?"). When he gets evicted from his apartment, however, he's forced to move in with his sweet and adoring grandmother (Doris Roberts) and her two roommates (Shirley Jones and Shirley Knight). The rest of the plot is superfluous, something to do with a new hotshot gaming exec (Linda Cardellini) brought in to whip a new game into shape before it hits the streets, the ultra-nerdy genius (Joel David Moore) who created it and the game he ends up stealing from Alex. Whatever, just light another one up and turn on the Xbox, dude.

Acting

The film features all of producer Adam Sandler's cronies sans Sandler. Covert (i.e. Ten Second Tom in 50 First Dates), is the mastermind behind Grandma's Boy, having also co-written and produced it, so he naturally fits the part well. Good for him to finally get out of Sandler's shadow. The rest of the geeks and freaks do what they do, but you kind of have to wonder what Roberts, Knight and Jones (who really looks fabulous, by the way) were thinking when they signed on. The Everybody Loves Raymond alum is lovable enough as Alex's doting grandma. But Jones' character, Grace, is a been-there, done-that floozy who beds a twentysomething and Knight is dazed for most of the film, making happy faces out of the buffet of pills she takes in. A little embarrassing, yes, but they all looked like they had a grand time, so why not?

Direction

Have you ever noticed how Adam Sandler produces crude R-rated crap through his Happy Madison banner (Deuce Bigalow et. al.), but never actually stars in it? He saves all the safe, PG-13 stuff for himself, keeping his reputation in check. On the other hand, Covert obviously just wanted to make a dumb fun comedy, in the same vein as the National Lampoon series, and hired Nicholaus Goossen--who had been making short films for the Happy Madison website--to helm. The film isn't great, by any standards. In fact, as it starts off, you're really hoping it isn't going to any more painful than, say, Deuce Bigalow: European Gigolo. But then something surprising happens--it sort of grows on you. The whole video-gaming and stoner aspects lend themselves to a myriad of amusing situations, as does the scenario with the old ladies. Sure, the film is clearly aimed for a particular demographic, but it isn't a total waste of time for the rest of us.

Bottom Line

Hollywood.com rated this film 2 stars.