Review Date: January 27th, 2006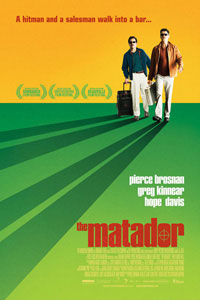 Pierce Brosnan is playing his darkest, sleaziest most multi-sexual character to date. He's a hit man who inflicts himself on a happily married couple with surprising results--and it could result in a dark horse Oscar nomination.

Story

Julian Noble (Pierce Brosnan) is good at what he does--killing people. But his career has reached a dead end and he's in a bit of a slump. Bored, drunk and alone on his birthday in Mexico City, he befriends Danny Wright (Greg Kinnear) at a bar and confesses his profession for the first time to a stranger. Skeptical at first, Danny finds himself swamped in his own desperation, trying to nail a deal that will help him out of a financial crisis. But, when Julian proves he is what he says, Danny is drawn to him like a moth to a flame. The question is how far he will take his fascination? And what will happen when Julian tracks Danny down at his Denver home and inflicts himself on his new friend and his wife (Hope Davis).

Acting

Critics seem to celebrate any actor that goes out of character--as if Brosnan is a one-dimensional actor who can only play Bond roles--but this gritty turn could earn him a few serious accolades, like when Denzel Washington shed his reluctant-hero persona for his Oscar-winning evil role in Training Day. Brosnan is creepy and manipulative as Julian, and his one-on-ones with Kinnear are like verbal sparring matches. They may as well be boxing. But, Kinnear--who has stolen scenes from greats like Jack Nicholson and Tom Hanks--proves to be a fine match for Brosnan in their interactions. Throw in Hope Davis in this odd subtle love triangle, and it's like watching a reality TV show of a couple from Denver.

Direction

Writer/director Richard Shepard obviously wanted to take the standard hitman-with-a-heart story and turn the genre on its head. The result is an intriguing and fascinating story with some Hitchcockian elements of an average guy who finds himself caught up in a world he knows nothing about. Danny is mortified over his crass and foul-mouthed friend, who walks through the hotel lobby in his underwear, belittles the loss of Danny's child and claims he's ''tri-sexual, I'll try anything.'' The more Danny tries to shed this new friend, the more he finds Julian around--and on his doorstep. When the three actors come together, the sparks seem to fly with the hidden tension. Like a manipulative Matador, the director guides a storyline with plenty of twists and turns to make the audiences cheer along the way.

Bottom Line

Hollywood.com rated this film 3 stars.