Review Date: January 14th, 2005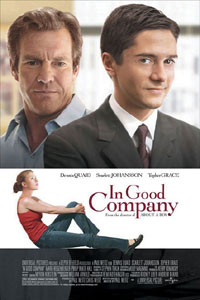 Although it sounds like a run-of-the-mill dramedy about a middle-aged exec forced to deal with a younger boss, In Good Company astonishes you in a quietly sublime way.

Story

Just when 51-year-old Dan Foreman (Dennis Quaid) should be enjoying the fruits of his labor, the successful ad sales exec's life suddenly takes a detour. First, he is demoted from his long-term job when the magazine he works at is gobbled up by a multinational conglomerate. Then, to add insult to injury, Dan must answer to a new boss, Carter Duryea (Topher Grace), a whiz kid half his age with no experience in ad sales. Carter may seem like your garden-type variety corporate climber, but he is dealing with his own personal problems after being dumped by his wife (Selma Blair) of seven months. Dan's home life is equally topsy-turvy. Just as his oldest daughter, Alex (Scarlett Johansson), leaves the nest to start her first year of college, Dan is shocked when his wife tells him she's pregnant. Somehow, the two men find some common ground and form an uneasy friendship, trying to keep the magazine--and its employees--from becoming victims of a corporate takeover. But their burgeoning relationship is put into jeopardy when Carter begins dating Alex. Uh-oh.

Acting

Dennis Quaid is at the top of his game. Bursting out on the scene in 2004 with no less than four films--The Alamo, The Day After Tomorrow, The Flight of the Phoenix and now In Good Company-- Quaid has definitely saved the best for last. The talented actor adds texture to Dan, an old-school ad guy who has built his stellar reputation on a handshake but who is forced to shift gears ever-so-slightly to stop his life from unraveling. Similarly, Topher Grace offers subtle and refreshing complexities to a character who could have easily been formulaic. He delicately shows how lonely and ultimately unfulfilled Carter is with his fast-moving corporate life. Carter does find some solace with the lovely Alex, even if his affections may be a tad misplaced. Johansson does another nice job as Dan's independent daughter, especially in her emotional scenes with Quaid, but she is somewhat wasted when compared to her male co-stars.

Direction

The fact this film went through several title changes--first it was Synergy, then Good Company to finally In Good Company--sent up some red flags, but we need not have worried. Under the expert guidance of writer-director Paul Weitz, who brought us the utterly delightful About a Boy, Company's sweet sentimentality easily washes over you. Weitz has a knack for taking something not necessarily original and making it so. For example, taking aim at the old school vs. new school in the corporate world isn't a new concept, but at least, Company gives a pretty real look at the inner workings of large company. It rarely goes the predicted, clichéd route. Even when it does--say when Dan and Carter finally band together to save their sales team, which, of course, you know they have to do--it's still done with a fresh perspective. Then, by adding the personal touches between the characters, especially the love story between Carter and Alex, the film is only enhanced. Job well done.

Bottom Line

You may go in thinking In Good Company is just another ho-hum look at corporate America. But after being won over by the crafty script and engaging performances, you'll leave pleasantly surprised.