Review Date: February 18th, 2005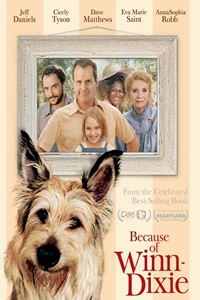 Because of Winn-Dixie--about a girl, a dog and a sleepy town that needs a little shaking up--is one of those sugary sweet, if slightly clichéd, movies tailor-made for the whole family. I feel bad even saying it's corny because it means so well.

Story

In this film based on the Newbery Award-winning children's book by Kate DiCamillo, Opal (AnnaSophia Robb) is a lonely 10-year-old girl who has moved to a sluggish small town in Florida with her preacher father (Jeff Daniels). She has a tough time getting through to her dad: when he is not preaching the gospel, he walks around in a haze, haunted by the departure of Opal's mother many years before. But when Opal adopts Winn-Dixie, named after the supermarket where she found the mutt, things start to brighten up for the little girl. With her special companion by her side, Opal ends up meeting some pretty interesting people in the town. They include Miss Franny (Eva Marie Saint), the local spinster librarian who spins great stories; Otis (Dave Matthews), the shy drifter working at Gertrude's Pet Shop; and Gloria (Cicely Tyson), an old blind lady living with ghosts from her past. Through Opal's sunny disposition and Winn-Dixie doggone tenaciousness, they help the town find their joy and their sorrow. And at the same time, they mend Opal's troubled relationship with her father. Collectively now, awwww!

Acting

All the players fit snugly in this warmhearted movie, especially the talented young Robb, who makes her feature film debut in Winn-Dixie. It's imperative to cast an adorable child, and Robb doesn't disappoint, keeping things genuinely fresh with the big eyes, infectious smile and Rebecca of Sunnybrook Farm charm. Daniels, too, doesn't overplay it as the wounded preacher--aptly described by Opal as a turtle--who rarely sticks his head out of his shell. Veterans Eva Marie Saint and Cicely Tyson do what they can with their stereotypical parts as the kindly spinster storyteller and kindly old wise woman, respectively. But it's singer-turned-actor Dave Matthews who stands out as the drifter with a troubled past but can ''sing most anything,'' even charming the animals in the pet shop á la the Pied Piper. His poignant performance is up there in the sentiment department.

Direction

Here we go with the children and the animals again. Wayne Wang (Maid in Manhattan, The Joy Luck Club) is the latest director to take a stab at guiding those most unpredictable of actors. As he explains, ''Sometimes, the going is slow. But then, suddenly something magical happens that you couldn't possibly have planned or anticipated.'' It's true. There are definite moments of inspired sweetness, especially between Opal and Winn-Dixie, played by a Picardy Shepherd, a rare breed of dog from France that has the look of a big old lovable mutt. And, of course, you can't go too wrong using heart-tugging material based on a beloved children's novel on par with Where the Red Fern Grows and Rebecca of Sunnybrook Farm. That's also Because of Winn-Dixie main problem. Fans of the book will certainly love the film, but overall it doesn't really offer anything new in this genre. It's the same general premise about the kid and a dog--or a horse, a deer, whichever animal works best--who can change the lives of those around them just from being pure of heart. Maybe it's the curmudgeon in me, but Winn-Dixie just doesn't stand out among the plethora of films similar to it.

Bottom Line

Like a big glass of milk and a slice of apple pie, Because of Winn-Dixie is just as wholesome as it gets, if you don't mind overdosing on the sugar once in awhile.