Review Date: November 12th, 2004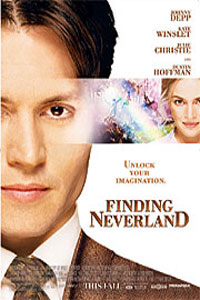 Titillating your imagination as well as touching your heart, the exquisite Finding Neverland tells the story of playwright J.M Barrie and his journey in writing one of the all-time classic children's tales-- Peter Pan.

Story

At the turn of the 20th century, Scotsman J.M. Barrie (Johnny Depp) finds moderate success as a playwright, staging serviceable, if somewhat mundane, plays for London's society. Yet, somewhere deep inside, Barrie intuitively believes he has a masterpiece in him just waiting to come out. Little does he know inspiration is right around the corner in the form of the Llewelyn Davies family: four fatherless boys and their beautiful, recently widowed mother, Sylvia (Kate Winslet). Much to the chagrin of Sylvia's upper-crust mother (Julie Christie) and his own wife (Radha Mitchell), Barrie befriends the family, engaging them in any manner of fun-filled activities, from playing pirates to flying kites. But of the all the Llewelyn Davies, Barrie forms a particularly close attachment to young Peter (Freddie Highmore), a sensitive little boy who is having a tough time dealing with his father's death and trying to grow up too fast. Through this family of muses, Barrie finally finds his voice, but just as he is ready to introduce the theater world to Peter Pan, a tragic twist of fate makes the writer and those he loves most understand just what it means to really believe…and you really do want to believe.

Acting

From showing up, very nonchalantly, at the Llewelyn Davies' house at tea time in an Indian headdress and war paint and carrying a wooden duck, to gently telling Peter he can visit Neverland anytime he wants just by believing, Depp's understated performance as J.M. Barrie is a marvel--but then, that isn't surprising, is it? The part is tailor-made for the actor, highlighting not only Depp's whimsical, carefree side we've come to know and love but also the warmth and poignancy he can convey (remember how he broke your heart in Edward Scissorhands?). But if you really want to talk about breaking hearts, then little Highmore (Two Brothers) takes the cake as Peter. He is certainly the soul of the film, and his moments with Depp's Barrie are heart wrenching. (Looking forward to these two actors teaming up again in Tim Burton's upcoming spin on Charlie and the Chocolate Factory.) As for the rest of the cast, everyone puts in genuine, heartfelt performances. Winslet does yet another excellent turn as the unconventional widow who simply wants her sons to enjoy life and stay young as long as possible, while Christie shines as the steely, no-nonsense grandmother who represents exactly what happens when you finally do grow up. Obvious Peter Pan enthusiast Dustin Hoffman--who played the dastardly Capt. Hook in Steven Spielberg's Hook--also makes an appearance as Barrie's longtime and loyal producer Charles Frohman, who at first harbors some serious doubt about the success of Peter Pan but soon becomes a believer himself.

Direction

The whole Peter Pan phenomenon never seems to get old, especially to Hollywood execs--last year's version starring 'tweener sensation Jeremy Sumpter was a moderate success. But Finding Neverland seems a tougher sell, with the potential to be just another period piece about an unconventional man living in an ultra-conservative society. You know, grand in scope but long-winded and veddy, veddy British. Maybe there's a little of that in Neverland, but fortunately director Marc Forster (Monster's Ball) realizes the essence of Peter Pan and cleverly plays up the wonderment Barrie experiences, as he--and the audience--falls in love with the Llewelyn Davies. If you're a fan of Pan, it's fun to pick out the moments of Barrie's inspirations, such as the author watching the children jump around on their beds, only to see them magically fly out the window or playing the bad pirate captain. Forster intermixes fantasy with reality so seamlessly. Yet, it's those times when reality strikes, and strikes hard, that makes Neverland more than simply a fanciful journey. Let's just say there won't be a dry eye in the place when you start clapping to bring the fairy Tinkerbell back to life.

Bottom Line

Fueled by an Oscar-caliber performance from Johnny Depp, Finding Neverland is a wonderful look at life's joys and tragedies, but most importantly its infinite possibilities once you use your imagination--so, pull out your pirate swords, dust off your fairy wings and clap your hands if you believe!