Review Date: July 30th, 2004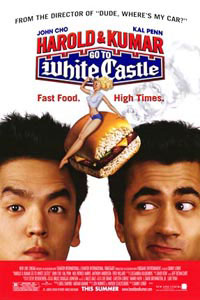 Since it's practically impossible to make an unfunny stoner flick, Harold & Kumar Go to White Castle has the odds stacked in its favor. The jokes aren't exactly smokin', but there are enough high points to make this a gratifying pot comedy.

Story

Harold (John Cho) and Kumar (Kal Penn) shamelessly embody each of their nationalities' stereotypical characteristics. Harold is a hardworking professional eagerly trying to get ahead in the business world, while Kumar is living under constant pressure from his parents to become a doctor. They deal with the stress by smoking a little something from Mary Jane's garden, and on this particular Friday, decide to seal the experience with ''the perfect meal.'' Enticed by the White Castle burger joint commercials, the duo decides to leave the confines of their hazy apartment to satisfy their TV-induced cravings for the little square burgers. In the tradition of Dude, Where's My Car?, their simple, straightforward trek turns absurd as Harold and Kumar get robbed by Neil Patrick Harris (aka Doogie Howser, M.D.), are arrested for jaywalking, ride a cheetah that escaped from the zoo, perform emergency surgery, take out a ... well, you get the picture. Do the pot smokers ever make it to White Castle and, even more importantly, was it worth it? That's for you to find out.

Acting

In the title roles, Cho (American Pie) and Penn (Malibu's Most Wanted) elevate an otherwise average comedy to a higher level. Cho plays an introverted geek, a yes man who aims to please everyone and thinks the only way to play is safe (he drives a Toyota). But even though he is frustratingly spineless, we relate to him the most because, let's face it, there is a little Harold in all of us. Cho plays Harold straight up, which makes the character more believable. Penn, on the other hand, is the carefree cool guy who doesn't fear consequences. Kumar, for example, goes through the motions of applying to med school so his father will continue to pay his rent, but then purposely botches the interviews to draw out his free ride. Penn nails the role because he doesn't try to hard to be funny and the character is never obnoxious. Plus, Cho and Penn have undeniable buddy chemistry and we believe for 87 minutes that they could be best friends off screen.

Direction

Director Danny Leiner, who helmed the 2000 comedy Dude, Where's My Car?, has a lot of living up to do here and although he meets expectations, he doesn't surpass them. The story, penned by scribes Hayden Schlossberg and Jonathan Hurwitz, follows the same formula as Dude but the gags aren't as innovative. Harold & Kumar does have some genuinely funny moments, including a sing along in the car to Wilson Philips' ''Hold On,'' and Leiner even pays homage to Dude in a scene in which Cho asks Harris, ''Dude, where's my car?'' But knee-slapping jokes are sandwiched between desperate toilette humor gags, leaving Harold & Kumar unable to hold a lighter to Half Baked, which six years ago set the standard for the stoner genre. The characters in Half Baked, written by and starring Dave Chappelle, didn't even have to peel themselves off the dingy couch to muster sidesplitting laughs. But come to think of it, no matter how ridiculous the sight of Harold and Kumar riding a cheetah through the New Jersey backwoods is, it's still sort of funny.

Bottom Line

Laughs and stoner movies go together like burgers and buns--fans of the genre can expect their fair share of chuckles in Harold & Kumar Go to White Castle, but the comedy doesn't hold a spliff to classics such as Half Baked or even the more recent How High.