Review Date: June 16th, 2003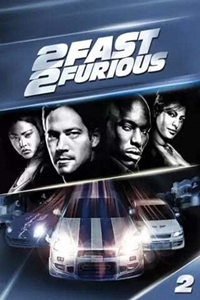 After losing his badge and any chance of redemption, Brian O'Connor is given one last chance when the Feds in Miami need his help to collar a businessman using his import/export business as a cover for an international money-laundering cartel.

Story

After screwing up the FBI's investigation into the hijacking of electronics-filled 18-wheelers in the Los Angeles area, disgraced cop Brian O'Connor (Paul Walker) has migrated to South Florida where he is snugly embedded in the city's street racing scene. But when the Feds in Miami need help bringing down Carter Verone (Cole Hauser), the head of an international money-laundering cartel, they cut O'Connor a deal: bring down the kingpin and get a clean record in exchange. O'Connor accepts on the condition that his childhood friend and ex-con Roman Pearce (Tyrese Gibson) be his partner. O'Connor and Pearce have an inside track to Verone, namely gorgeous undercover agent Monica Fuentes (Eva Mendes), who has won the heart of the stoic villain. The script, penned by Michael Brandt and Derek Haas, has plot holes large enough to swallow a Greyhound bus. But this movie is never about the ludicrous story or its laughable dialogue; it is all about the Asian hot rods, and unlike The Fast and the Furious, it never takes itself too seriously. Moviegoers, however, will undoubtedly revel in the return of O'Connor's silver Nissan Skyline and newcomers including the Mitsubishi Evolution 7, a BMW M3, a Mazda RX7 and a Honda S2000, just to name a few.

Acting

The tall, blonde Walker who all but disappeared in the presence of juggernaut Vin Diesel in The Fast and the Furious emerges in this breezy second installment as a surprisingly competent lead. Like most characters in the movie, O'Conner lacks depth and his new clandestine life in Miami is barely explored, but let's face it; this is a film about car culture and not a character study. Juxtaposed against Walker's laid-back O'Connor, Gibson's Pearce is the perfect menacing brute, an ex-con who always has a score to settle--even when there isn't one. The two leads equally bear the film's weight here and it works because their interaction appears natural and their clashing personalities seem to balance each other out. As their common nemesis Verone, Hauser--a fitting addition to the cast--perfectly pulls off the role of the coldhearted kingpin. Hauser is the quintessential villain even though there is nothing redeeming about his two-dimensional character. Rounding out the cast is Mendes, convincing in the three-pronged role of a scantily dressed car-racing babe, a kept woman and a crackerjack cop, and rapper-turned-actor Ludacris as local garage owner Tej.

Direction

Fasten your seatbelts, because John Singleton's flamboyant follow-up to the 2001 surprise hit The Fast and the Furious is just as raucous a ride as its predecessor. The movie's race sequences are more exciting here, the courses twist and curve and have more obstacles--including an insane run over drawbridge. Coming from the director of such socially conscious films as Boyz N the Hood, Rosewood and Baby Boy, 2 Fast 2 Furious is an unusual shift for Singleton, but he succeeds at this high-octane genre just the same. For one thing, very little about this sequel is rehashed: The tone, the characters, and the plot are new, but more importantly, so are the cars, which is the focus of this entire movie. Assembled under the gaudy guidance of action veteran Neal H. Moritz, the picture keeps its finger on the pulse of the ever-changing world of performance cars. The Honda Civics and Toyota Supras are overshadowed by the new status quo: the Mitsubishi Evolution 7. Although these economy sedans have been painted in cheesy neon colors and loaded up with ridiculous-looking add-ons, including glaring hood roofs and high rear wings, they will steal the hearts of Speed Channel junkies with an affinity for rally car racing.

Bottom Line

Like its predecessor, 2 Fast 2 Furious is plagued by a spotty storyline--but who cares? Charged with exhilarating car-racing sequences, this movie nails the car culture scene and packages it into an entertaining summer movie.