Review Date: May 17th, 2002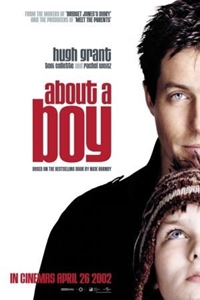 A rich, child-free and irresponsible Londoner reluctantly befriends a 12-year-old boy and they end up changing each other's lives.

Story

At 38, Will (Hugh Grant) has made an art out of avoiding any responsibility in his life--no marriage, no kids and definitely no job. Living off royalty checks from a popular Christmas song his father wrote, he's the star of the Will show and that's the way he likes it. What Will doesn't realize is that he is about to grow up (and the movie is going to jump-start). After deciding that the best place to meet women is pretending to be a single parent and going to support groups called S.P.A.T.--Single Parents, Alone Together--Will inadvertently meets Marcus (Nicholas Hoult), a 12-year-old with a suicidal single mother, Fiona (Toni Collette). The kid is an odd duck. He doesn't seem to fit in at school and latches onto the reluctant Will for guidance, especially in trying to make his mother happy. At first, Will tries to dissuade the young man but gradually becomes Marcus' friend, teaching him how to be a cool kid and actually beginning to care about him. On the flip side, Marcus helps Will finally grow up, fall in love and possibly even commit to a real adult relationship with a lovely single mother, Rachel (Rachel Weisz).

Acting

Grant has played it smart with his career. Since starring in Four Weddings and a Funeral (which put this decidedly charming British actor on the radar) Grant has had more successes than failures, especially in the romantic comedy arena. In About a Boy, the actor sticks with familiar territory but has actually matured right before our eyes (and cut his hair into a short, spiky 'do) and sheds those charming mannerisms to expose another side of himself in a way he has never done before. Will is selfish, cowardly and pretty shallow most of the time but he is never unlikable, and that's Grant's true gift. Newcomer Hoult is also a revelation, a genuine find. It takes some time getting used to this boy's very distinctive face, which is a cross between a Vulcan (it's the eyebrows) and a cherub, but once you do, Hoult wins your heart--perhaps because he isn't the cookie-cutter ''cute kid'' we are used to, he's more real. Ironically, his character Marcus makes a reference about trying ''to be more like Haley Joel Osment'' but how he fails miserably in ''drama.'' Collette does a nice job as the wacky mother trying to cope (a familiar role for her), and Weisz's small but pivotal role as the woman Will falls for is memorable.

Direction

Coming from the directors of American Pie, one might be a tad apprehensive about seeing a definitively British comedy done by two guys whose claim to fame is a bawdy teen sex comedy. Yet, co-directors, co-writers and brothers Paul and Chris Weitz deftly handle the material and find an hysterical but poignant way of telling the story. Based on a best-selling novel by Nick Hornby, the story about a shallow bachelor taking an odd 12-year-old boy under his wing seems like it could easily fall into the after-school special arena--but thankfully, it doesn't. Although the film starts off a little shaky with voice-overs and heavy exposition (not always a good sign), it quickly redeems itself with clever, witty dialogue and somewhat unpredictable plot points. The brothers also manage to throw in some intriguing camera angles, going above and beyond the usual shots. Yet, the most surprising element to the film is that it really isn't a romantic comedy. It's more a buddy picture and the buddies in question do a heck of a job bonding with us on screen.

Bottom Line

As an alternative to lightsabers and Jedi masters, About a Boy delivers a warm and quirky comedy, with a new and improved Hugh Grant.