Review Date: November 21st, 2001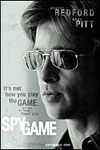 The business of spying isn't as glamorous as it seems-just ask the guys working for the CIA in the thriller Spy Game. One agent acts with his heart while his mentor tries to teach him to play by the rules; however, in the end, it's the mentor who learns the lesson.

Story

Agent Nathan Muir (Robert Redford) is about to retire from the tense world of the CIA. On his last day, however, Muir is hit with the news that his former protégé and friend, Tom Bishop (Brad Pitt), has been captured by the Chinese and will be executed within 24 hours. The CIA has written his rescue off as too risky, so Muir takes on the task himself. But he needs more information to save his pal, and to get it, he ingratiates himself with the top brass, describing in a series of slow-moving flashbacks how he worked with Bishop in the past, pointing out Bishop's tendency to get too involved with his ''assets,'' the people he befriended to get to the bad guys. As the investigation deepens, Muir discovers that Bishop is considered expendable by his superiors because of his maverick ways, and the story becomes a race against time as Muir tries to save his friend by outsmarting those working against him.

Acting

You'd have to look hard to find two cooler actors than Robert Redford and Brad Pitt to play the high-powered spies around whom Spy Game revolves, and they don't disappoint. The film really belongs to Redford, though. As the seasoned CIA pro, the handsome, if a bit weathered, actor still exudes his characteristic charm and proves he can carry any movie. Pitt has the harder job, and he doesn't quite measure up to his counterpart, partly because his story is told mostly in flashbacks and the distance makes it hard for the audience to identify with him. Nonetheless, Pitt manages to paint a compelling picture of an idealistic spy ruled more by his heart than his head.. There are also some nice supporting turns, especially by Marianne Jean-Baptiste as Muir's resourceful assistant and Stephen Dillane as the weasly CIA agent who thinks he's smarter than Muir. Yeah, right.

Direction

The wonderful world of spying has consistently offered great fodder for movies. James Bond makes it look glamorous; Jack Ryan in Patriot Games makes it look heroic. In the hands of director Tony Scott, the spy world is much more realistic, and the CIA's inner workings have a harder edge. But while the movie's concept is solid and it's refreshing to catch a glimpse of a world you may not know anything about, the film's structure is a problem. Watching Muir stay one step ahead of his superiors is reminiscent of other compelling--and successful--thrillers, but the flashback sequences slow the movie down considerably. The longer one, where Bishop has a romance with one of his ''assets'' (Catherine McCormack), is particularly jarring, causing the film to lose what momentum it had.

Bottom Line

Spy Game is an interesting way to learn the ins and outs of being a good spy. It's just a shame the film takes its sweet time getting to the punch.