Review Date: August 24th, 2001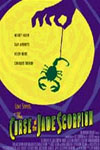 Director Woody Allen follows last year's hit Small Time Crooks with another wacky crime caper. This time, the setting is New York City in the 1940s and the plot is replete with jewel thieves, hypnotism and cheating husbands. In The Curse of the Jade Scorpion, Allen does what he does best.

Story

CW Briggs (Allen), a New York insurance investigator, has cracked many cases, but, in Allen's inimitable style, is very disorganized. Enter Betty Ann ''Fitz'' Fitzgerald (Helen Hunt), an uptight efficiency expert, who comes into Briggs' office to ''clean things up.'' Sure, these two seem to hate each other, but what are their true feelings? At a party for a colleague, Voltan the hypnotist (David Ogden Stiers) puts Briggs and Fitz under his spell, and in a clever story device, shows how Briggs and Fitz really feel about one another. But things of course get complicated. First, there's a sudden string of jewel thefts, where the evidence suspiciously leads to Briggs himself. Then Briggs finds out Fitz is having an affair with the company owner, Chris Magruder (Dan Aykroyd). He could ruin Fitz if he didn't need her to help him find out who's framing him-and if he didn't have the nagging feeling that he really loves her.

Acting

Once again, Allen has assembled an excellent cast--but that is, after all, his specialty. Allen may even decide to add his new leading lady to his personal stable. Hunt is the perfect foil, embodying the fiery actress of the '40s (think Katharine Hepburn or Rosalind Russell), yet never once do you doubt her vulnerability under the tough veneer. Aykroyd is also quite good playing a rather unsavory married man who strings Fitz along. The character is reminiscent of Fred MacMurray's role in the Oscar-winning The Apartment, which was no doubt an intentional tipping of the hat on Allen's part. The only less-than-stellar performance comes from Allen himself in the romantic lead. The same nebbish, neurotic character that was so appealing in classics like Annie Hall and Manhattan comes off these days with significantly less charm. His pairing with an older actress (say perhaps Diane Keaton) would have made it more believable.

Direction

Nonetheless, by casting himself as the lead, Allen, at least, seems to be in on the joke. Curse may not be a gem (he hasn't had a true stand out since Hannah and Her Sisters), but it certainly ranks up there as an Allen special. The dialogue is as crisp and witty as ever: Hunt gets some of the best lines, especially when she spars with Briggs. In one scene, Fitz, who always seems to have the upper hand, tells Briggs as he walks out the door to be careful not to fall down an elevator shaft and break his hip because, at his age, they are hard to heal. Classic. Allen knows exactly what he wants--from the music to the costumes to the visuals. Some may think Allen's films have lost any edge he may have had when he was younger and, granted, they may not be entirely wrong. But Allen clearly doesn't care. Like the man, Curse fits like an old comfortable glove.

Bottom Line

This old fashioned movie brings back some good old memories of those '40s romantic comedy classics--in the classic Woody Allen style.