Review Date: May 17th, 2002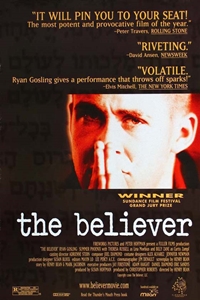 A deeply conflicted 22-year-old Jewish man from a troubled family in New York commits acts of violence as a bullying skinhead and pushes proto-fascist agendas in spite of his religious passion.

Story

Based on actual events, The Believer tells the story of young ''Jewish Nazi'' Danny Belint, once a promising Yeshiva student from Queens. But now, disillusioned by Judaism, he is an active member of an anti-Semitic band of hoodlums who terrorize Jews and plan attacks against them. He also frequents meetings with self-styled fascist intellectual Curtis Zampf and his wealthy dragon lady companion, Lina Moebius. Danny's effete father and sister are clueless about his anti-Semitic activities. And his fellow skinheads, with whom he schemes and trains at retreats, are unaware of his Jewish background. In conversations with several concentration-camp survivors, as part of a sensitivity-training session ordered by a judge after Danny and his gang are hauled in for violence, Danny provides clues for his twisted hatred when he blames Jewish passivity and fear for the tragedy of the Holocaust. But Danny's cover is soon shaken when a journalist, who has learned that Danny is Jewish, presses him for more information. After violent incidents involving synagogue damage and an assassination attempt, Danny's life takes a sharp and fatal turn when his lover Carla, Lina's daughter, triggers in Danny a renewed passion for Judaism and its rituals.

Acting

Ryan Gosling's turn as young neo-Nazi Danny is worth more than the price of admission. He delivers a stunning career-making performance that is as disturbing as it is believable. Gosling, who has moved on to studio features since his Believer role two years ago, gets terrific support from the other actors, including Summer Phoenix as beautiful lover Carla, Theresa Russell as Carla's fanatical mother Lina and Billy Zane as Lina's sinister companion Curtis.

Direction

As brave as he is skilled, writer/director Henry Bean does a superb job of conveying the chilling atmosphere and psychological confusion that can turn profound hatred into acts of violence. He also deserves credit for fashioning a convincing script rife with the intellectual questions and issues that can give rise to hatred. Bean's real coup was giving Gosling the guidance and space to deliver so extraordinary a performance. Bean's eye and ear for the authentic are apparent everywhere, with both the decent folk and the hateful bigots soaring far beyond cliche or caricature.

Bottom Line

This extremely troubling but brilliantly mounted drama about a young Jewish man driven to anti-Semitic violence is anything but a fun Saturday at the movies, but it is a thought-provoking film with exceptional performances.