Review Date: March 2nd, 2012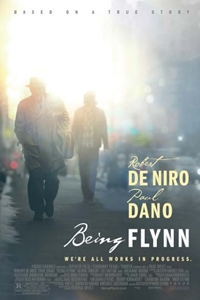 Nick Flynn's memoir Another Bullshit Night in Suck City has all the tropes of a tried-and-true melodrama: drugs, poverty, homeless people, untimely deaths, an estranged father suffering from a crumbling mental state—but, thanks to the fact that the madness actually happened, the story plays out as poignant and heartfelt. Writer/director Paul Weitz's (American Pie, About a Boy) adaptation, Being Flynn, maintains the integrity thanks to a reserved execution and stellar cast that color Flynn's story with a spectrum of shades. For some, it might be too simple, too Hollywood, too quaint for its own good, but echoing the narrative's time period, the big screen version feels like a relic of the '90s, unafraid to tackle familiar themes with straight up honesty and a dash of feel-good convention.

Weitz sticks to the film's literary roots, employing a double dose of narration that effectively draws us into the lead characters' self-absorbed points-of-view. Nick (Paul Dano) is a twenty-something struggling writer who buys his time working at a homeless shelter…mostly to pursue Denise (Olivia Thirlby), the gal of his affections. Jonathan (Robert De Niro)—the father Nick hasn't seen since he was a kid—also happens to be a struggling writer, convinced he's on the brink of success, despite his impoverished lifestyle and unhinged tendencies. After being evicted from his apartment for attacking a noisy neighbor, Jonathan tracks down his son and reaches out for help. Nick gives him the cold shoulder, sending his manic dad into the cold winter. But the father/son duo's lives intertwine again when Jonathan shows up at the doorstep of the shelter, forcing Nick to confront both his past and present problems.

Dano and De Niro are both at the top of their games in Being Flynn, juggling the weight of the scenario with delicacy, even when Jonathan growls his way through homeless shelter protocol or Nick embraces drug culture for the first time. Moments of dramatic intensity never fly off the rails thanks to Weitz's subdued directing style and Badly Drawn Boy's mellow score (Weitz previously collaborated with BDB on About a Boy). Flashbacks to Nick's childhood keep the film on its toes, with Julianne Moore delivering a small, but intense role as Nick's mother. The memories of his youth haunt and inform Nick's decisions, further complicating the straightforward familial drama.

Thanks to Hollywood's business tactics, there's a certain type of budget, aesthetic and release date placement that serious adult dramas typically adhere to, making the emergence of Being Flynn in the beginning of blockbuster season surprising and welcome. The film is a passionate exploration of adult themes with a foundation of quality production values, the perfect vehicle for stellar actors to work magic on screen. De Niro's latest string of pictures haven't been on par with his award-worthy work of the '80s, but Being Flynn signals what could be a new turn for the actor. The role's a welcome departure, a chance to play a tender, vulnerable character against a hard-nosed youth (which feels like a flip from his early roles). That echoes all of the unexpected choices made in Being Flynn, filmmaking decisions that boil down to simply being truthful.

Hollywood.com rated this film 4 stars.