Review Date: January 9th, 2013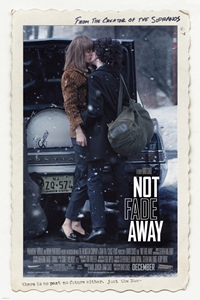 Unlike his parents, blue collar Italians who take pride in their country, their past, and a well-kept haircut, Douglas believes that rock and roll is ''art.'' The central character of Not Fade Away, which premiered at the New York Film Festival, lives and breathes music, a disciple of the unique rhythms of the Rolling Stones and The Beatles. After high school, Douglas pursues a career with his buddies from New Jersey, hoping one day to make it big like his idols. He wants to be a performer. An artist.

As time passes, Douglas' creative pursuits widen, and it becomes clear that the struggling 20-something is a proxy (or at least a variation of), writer/director David Chase. Any Sopranos fan can tell you that Chase has a passion for a music, each episode meticulously curated like a live-action mixtape with mobsters, rather than a typical hour long drama. For Not Fade Away, Chase's directorial debut, the small screen auteur immerses himself completely in the mesmerizing grandness of the '60s era rock and roll scene. But it's not a movie founded on nostalgia for nostalgia's sake — Douglas' exploration of music and the life that surrounds it is depicted with passion and accuracy, as if Chase adapted journal entries of every pop culture-infused moment from his own life. We don't see Douglas' entire career play out or pull back to completely understand the '60s music industry. It's just about one big dreamer.

Not Fade Away feels like six seasons of a television show condensed into a swift two hour film. It's purposefully disjointed, hitting the big beats in Douglas' (John Magaro) life like true memories do. In the years that follow his graduation, Douglas joins his two buddies Eugene (Jack Huston) and Wells (Will Brill) to fill out their always-rotating band roster. With Douglas, they find a leading man, and become a big deal in the New Jersey suburbs. The musical career confidence convinces Douglas to bail from college, much to the chagrin of his dad Pat (James Gandolfini). Gone are his plans to join the ROTC and travel to Vietnam, replaced by ambition for fame, artistic fulfillment, and romance with the cool girl from high school, Grace (Bella Heathcote).

The film covers a lot of ground, but it's not a quick rise of the top for Douglas. Not Fade Away plays more like the anti-action war film of Jarhead through the terms of That Thing You Do. Like The Sopranos, the film uses a mix of comedy and drama to make the story relatable. Magaro, Huston, and Brill sound and act like young people. They listen to records, smoke pot, talk a big talk, and act like know-it-alls. They fall face first when minor hurdles come along. They pal around. They fall in love, then fall out of it moments later. The time in-between these memorable scenes could be days or weeks or months or years, but Chase boldly jumps from one poignant moment to the next, whether it's Douglas nearly fist-fighting his father, the first time he has sex with Grace (a semi-awkward couch moment), or hearing ''Sgt. Pepper's Lonely Hearts Club Band'' for the first time.

Not Fade Away isn't overtly profound, but it's a joy to watch. As Douglas loses himself to music, so do we, Chase's incredible soundtrack handpicked by musician/producer Steven Van Zandt. We're not just told why someone would fondly recall growing up in the '60s, we feel it. It's mirrored by photography that makes the drab Jersey suburbs and rundown streets of New York's East Village pop in accordance with the tunes. And like Sopranos, which did plenty of poetic waxing as it told its epic gangster tale, Chase relies heavily on the well-rounded performances of his cast. Magaro plays Douglas in a way that fits the film's pacing. All at once he's a dork, a romantic, an a**hole, and a philosopher (plus, he can sing!). The other standout is Gandolfini; an actor who could be perceived as one-note on the surface reminds us once again of his subtle range. There's a bit of Tony Soprano in Pat, but the tough exterior has plenty of vulnerabilities. In fact, it might be that there's a little of Chase's own father in Tony.

The unconventional style makes Not Fade Away less digestible than a music-driven coming of age story like Almost Famous. Chase prioritizes the experiential over the step-by-step narrative. It makes the film more sporadic, but keeps the audience on its toes. With vivid colors, sharp wit, and the perfect selection of songs, the writer/director brings the same freshness that turned The Sopranos into a modern classic to Not Fade Away. When it rocks out this winter, catch it.

Hollywood.com rated this film 4 stars.