Review Date: March 17th, 2011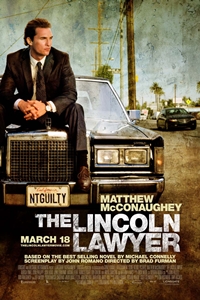 The Lincoln Lawyer, directed by Brad Furman and based on the bestseller by Michael Connelly, is a victim of ambition -- it hasn't got enough of it. Certainly, the film has a lot to recommend it: a talented cast, an interesting premise, lively pacing, a few nifty plot twists and a surprisingly strong performance from Matthew McConaughey, happily rousted from his bland rom-com stupor. But it's too tightly bound to the established conventions of the legal thriller. When you work within the dully familiar confines of a genre as exhaustively played out as The Lincoln Lawyer's, to be merely "good" just isn't good enough.

McConaughey plays Mick Haller, a Los Angeles criminal defense attorney who has carved out a nice niche for himself negotiating plea deals for low-level offenders who can't afford upscale representation. His nickname stems not from any affinity for our 16th president but from his preference for conducting business out of the backseat of an older-model Lincoln Continental piloted by his chauffeur, Earl (Laurence Mason). All lawyers work the angles inherent in our byzantine justice system; Haller elevates it to an art form, practiced with utter ambivalence toward the actual guilt or innocence of his clients.

Cracks in Haller's slick wheeler-dealer façade emerge, however, after he unexpectedly lands the lucrative job of defending a snotty, entitled playboy named Louis Roulet (Ryan Phillippe, better at playing snotty and entitled than perhaps anyone in the business) against accusations that he assaulted a prostitute. Dazzled by the dollar signs and convinced by Roulet's protestations of innocence, Haller ignores the subtly mounting evidence -- along with the warnings of his lead investigator (William H. Macy) and prosecutor ex-wife (Marisa Tomei) -- indicating that his new client isn't just some petulant douchebag, but a wily and deceitful petulant douchebag, one who is almost certainly guilty of hooker-bashing and who may very likely be guilty of other, more heinous crimes as well. What's worse: Another man, one of Haller's former clients, is currently serving a life sentence for one those crimes.

A strange and intriguing game of attorney-versus-client plays out, in which Haller, driven by an epiphanic desire to clear his conscience and balance his karmic ledger, strives to maintain the guise of a vigorous defense of Roulet while secretly maneuvering behind-the-scenes to undermine him. Furman directs the film with gritty, streetwise élan, although I found the redundant voiceover play-by-play in the film's many flashbacks to be a bit grating. He guides McConaughey to his best dramatic performance in years, which is no small accomplishment.

And it might be enough if The Lincoln Lawyer weren't the 900th iteration of legal thriller or courtroom drama that has made its arguments on the big and small screens over the past few decades. This is not an exaggeration: Law & Order alone lasted for 456 episodes. And that's not even counting Special Handjobs Unit or the innumerable other lawyerly spin-offs. The genre long ago surpassed its saturation point, even in a society as preternaturally litigious as ours. The Lincoln Lawyer, no matter how well-executed, cannot escape feeling rote and forgettable in the end. Move to dismiss.

Hollywood.com rated this film 3 stars.