Review Date: May 28th, 2009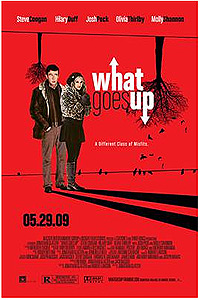 WHAT IT'S ABOUT?

Campbell Babbitt is a screwed-up, emotionally lost, prize-winning New York reporter who is sent to the small New Hampshire hometown of the first civilian astronaut, Christa McAuliffe, to cover the local celebration leading up to her ill-fated flight aboard the space shuttle Challenger. Instead, he becomes enthralled by a scandal surrounding the apparent suicide of a beloved teacher and immerses himself into the lives of his former students. But as Babbitt gradually unravels some well-kept secrets, he starts to get a little too close for comfort.

WHO'S IN IT?

Steve Coogan is perfect in What Goes Up as the morally-challenged reporter Babbitt, conveying a strong sense of his own human failings as he tries to get closer to the students of a recently-deceased but much-loved teacher. In so doing he must also deal with another teacher (well-played by Molly Shannon) who tries to keep the story's sordid details out of the paper. Where the film really comes alive is with the superb supporting cast, led by an all-grown-up Hilary Duff as Lucy, a scheming Lolita who is rumored to have been romantically involved with the dead prof — and who now has her sights set on Babbitt. Duff's seductive presence proves she is an actress to watch. Also standing out are Olivia Thirlby (Juno) as a sly, cunning pregnant student and Josh Peck as a kid who likes to watch. Max Hoffman, son of Dustin, also makes a strong impression in a smaller role.

WHAT'S GOOD?

Although it could have fallen into the familiar traps of a lot of teen-oriented comedies, this compelling and completely original look at the dark side of heroes crackles with moral ambiguity and a cast of characters who aren't always as they seem. What Goes Up also successfully examines our reactions to death in subtle and larger ways that aren't always predictable. The colorful, independent personalities placed under the microscope clearly don't have ready answers and don't always behave the way we think they might — or should.

WHAT'S BAD?

The solid screenplay by Bob Lawson and director Jonathan Glatzer sometimes gets sidetracked by the impending Christa McAuliffe tragedy, creating an underlying sideshow that's not really that integral to the plot. It may make the story more relatable to audiences, but considering the strength of the players on hand, it feels unnecessary and rather obvious.

FAVORITE SCENE?

Watching Hilary Duff sexily try to seduce Coogan is a game-changer, not just for her, but for the audience that grew up watching her as a role model.

NETFLIX OR MULTIPLEX?

Since this sleeper indie film is being self-distributed, theatrical exposure in 2009's crowed summer is going to be limited, so your best bet is gonna be DVD.

Hollywood.com rated this film 3 stars.