Review Date: December 12th, 2008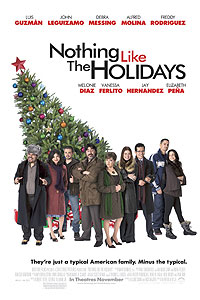 A solid Christmas-themed dysfunctional family drama is enlivened by its superior cast of fine Latino stars.

Story

It's Christmas in Chicago and the far-flung members of the Rodriguez clan are coming home to spend the holidays at the their parent's house. But Mom (Elizabeth Pena) has a surprise in store for the grown siblings: She is divorcing their father (Alfred Molina) right after the tree is taken down. This doesn't sit well with the now adult kids, including business man, Mauricio (John Leguizamo), who has arrives with high-powered wife Sarah (Debra Messing). There's also Roxanna (Vanessa Ferlito), a successful Hollywood actress, who seems to be at a crossroads in her life, while her nice neighborhood friend Ozzy (Jay Hernandez) would like to be mean more to her. And then there's Jesse (Freddy Rodriguez), just back from Iraq and unsure of his place in the family. All of these situations intertwine when the serious illness of one of their own is suddenly revealed, and the family has to pick up the pieces and come together.

Acting

Nothing Like the Holidays gains its strength from a superbly chosen cast, including the wonderful Molina as the family patriarch, who tries desperately to keep his family and marriage together. As his long-suffering wife Anna, Pena is superb, cutting right to the core of who this woman is. Also very impressive is Six Feet Under star Rodriguez, who plays the returning Iraq vet with touching pathos. Leguizamo, on the other hand, pretty much sleepwalks through his one-dimensional role and is miscast opposite Messing who still manages to evoke sympathy for her career woman quickly running out of time to have a baby. Ferlito is just fine as the fledgling Hollywood actress who seems more at home than the rest. Hernandez is an attractive and forthright presence as the local boy who finds himself attracted to the possibly unattainable star. Meanwhile, a cameo by terrific character actor Luis Guzman provides comic relief.

Direction

Director Alfredo De Villa has proven he knows his way around a character-driven drama with his film Washington Heights. And with Holidays, he clearly invests a lot of time making sure these interconnected storylines make sense in the scheme of things and turns the sometimes pedestrian situations into what almost seems like live theatre. The performances snap, crackle and pop, and the seasonal atmosphere really contributes to the satisfying dramatics . Although some of the actors are allowed to go over the top occasionally, De Villa keeps control of the film and makes it work as a very engaging and lively holiday confection you and your family will most likely identify with.

Bottom Line

Hollywood.com rated this film 3 stars.