Review Date: February 5th, 2009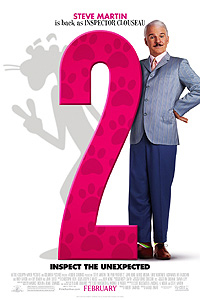 Kids will love it, but this 'Panther has drifted far from the smart farce it once was

Story

It's been 45 years since Peter Sellers was unleashed as the bumbling Inspector Clouseau in the delicious Pink Panther. That 1963 film spawned numerous sequels and cartoons, and in 2006 the baton was passed to Steve Martin -- who hatched a worldwide hit with his version of the French detective. In this meandering, gag-laden sequel, Martin is assigned to join a team of other famed international detectives and crime wizards to crack a case where priceless treasures are being stolen around the globe including, of course, the iconic Pink Panther diamond. Again aiding Clouseau in his own cause are his partner Panton (Jean Reno) and Nicole (Emily Mortimer), for whom he still has those amorous feelings.

Acting

Let's face it, no one could top Sellers in this role, and it's wise that Martin doesn't really try, instead taking the character more toward The Jerk. Whether inadvertently burning restaurants down to the ground, juggling wine bottles (in a particularly lame sequence), mangling the English language, imitating the Pope or spouting hopelessly politically incorrect bon mots like calling an Asian colleague "my little yellow friend," Martin plays it broadly and safely. As the quartet of international detectives brought in to solve the case with Clouseau, Andy Garcia, Alfred Molina, Yuki Matsuzaki and gorgeous Aishwarya Rai Bachchan do everything they can to keep from being totally upstaged by Martin's nonstop antics but it ain't easy for any of them. Also of note: John Cleese takes Kevin Kline's place as Clouseau's exasperated boss, and Lily Tomlin, Martin's All of Me co-star, are reunited here to teach him properly correct social etiquette.

Direction

With a cast of capable comic veterans like this, all any director would have to do is point the camera and make sure it's in focus. And that seems to be ALL Dutch helmer Harald Zwart (Agent Cody Banks) has done. The PP template has been dumbed down to appeal to young kids and despite its picaresque Paris and Rome locations , this comes off as surprisingly flat with a lot of comic possibility left twisting in the wind.

Bottom Line

Hollywood.com rated this film 2 stars.