Review Date: June 11th, 2009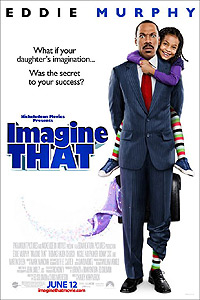 WHAT IT'S ABOUT?

Eddie Murphy is terrific in Imagine That as Evan Danielson, an overworked financial advisor who is so immersed in his job he's forgotten about Olivia, his daughter from an estranged marriage. When he is given custody for a week and he gets too busy with work, she retreats into her fantasy world, imagining a group of princesses who, as it turns out, really know their way around big business. When Dad figures out his daughter's special blanket and otherworldly friends have the magic touch for investment advice, he becomes an instant superstar in his firm. But his newfound success soon sets up a confrontation with his chief rival, Johnny Whitefeather, whose presentations are often full of (Red) bull.

WHO'S IN IT?

From Dr. Dolittle to Daddy Day Care, Murphy has carved out a solid alternate career as a star of family-friendly movies. But none of those previous works play to his overall talents as a comedian better than Imagine That, in which he gets to merge his kid's fantasy world with office politics for optimum laughs. The purely delightful premise, in which Murphy faces off with skeptical business partners, is perfectly toned to his talents and allows him to be widely appealing for both kids and their parents. As daughter Olivia, newcomer Yara Shahidi won out over 3000 girls and is wonderful, a real charmer who goes toe to toe with Eddie. Thomas Haden Church provides the perfect foil for Murphy as Whitefeather, a guy who plays off a phony Native American heritage and spouts nonsensical advice like he's E.F. Hutton. As bosses vying for Murphy's newfound talents, both Ronny Cox and Martin Sheen play it straight, lending the appropriate gravitas to their roles. Nicole Ari Parker is winning in her few scenes as Olivia's mom.

WHAT'S GOOD?

Murphy's comedic tendency to go way over the top (i.e. Norbit) is kept in check with great results. He's totally believable as a stressed-out businessman and his trip into his daughter's imagination is handled realistically, mined for the optimum number of laughs without sacrificing credibility. Credit for this goes to Karey Kirkpatrick (Over the Hedge), an animation director making his live-action debut, for keeping cartoonish antics to a minimum and emphasizing heart and the father/daughter bond instead.

WHAT'S BAD?

The scenes between Murphy and Shahidi are so effortlessly charming and real that you wish there were more of them. (One highlight is when father teaches daughter to sing Beatles songs, which are heard throughout the film.) It's the kind of thing Bill Cosby did so well on TV but could never pull off in movies. Murphy does.

FAVORITE SCENE:

Murphy is in top comic form all the way and is never better than when he berates Littlefeather's hokey presentation, then comes up with one based on his daughter's doodlings that shows off the comic genius we haven't seen in this actor's comedy vehicles in quite a while.

NETFLIX OR MULTIPLEX?

Imagine That is a family film in the truest form and ripe for an outing with your kids. If you don't have any, rent one and go.

Hollywood.com rated this film 3 stars.