Review Date: March 7th, 2008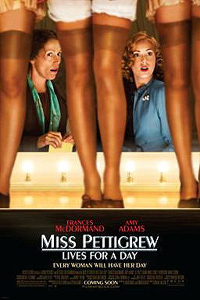 A charming mix of screwball comedy and poignant romance, Miss Pettigrew Lives for a Day is lighthearted period fun.

Story

Drab, prim, and more than a little prudish, Guinevere Pettigrew (Frances McDormand) isn't a very good governess--her rigid personal beliefs keep getting in the way of her ability to hold a job. Homeless and hungry on the streets of 1939 London, she's on the verge of despair when fate sends her to Delysia Lafosse's door. Flighty, enthusiastic, and impulsive, Delysia (Amy Adams) is a club singer with aspirations of becoming a serious actress; to achieve her goals, she'll literally charm the pants off of any man who can help her--even at the risk of losing her one true love forever. Equally shocked and fascinated by Delysia's sophisticated, fast-paced, colorful lifestyle, Miss Pettigrew uses her brief time as the young woman's faux social secretary to try to save her from herself. At the same time, she begins to let go of old fears and finds the way to her own happiness.

Acting

Miss Pettigrew benefits immensely from the strengths of its two stars. McDormand is both funny and affecting as the title character; she plays a recurring gag in which Miss Pettigrew almost gets to eat with just the right notes of humor and pathos. The twinkle in her eye as she takes the measure of Delysia's world is convincingly conspiratorial, and her scenes with co-star Ciaran Hinds, who plays courtly lingerie mogul Joe, are both sweet and realistic. Adams, meanwhile, is just as captivating as she was in Enchanted. Delysia's perky effervescence hides both determination and vulnerability, and Adams mixes all three elements expertly. The ladies get strong support from their fellas, particularly Hinds and Pushing Daisies' Lee Pace, who plays Delysia's poor-but-ardent suitor Michael. And Shirley Henderson is perfectly poisonous as socialite/salon owner Edythe.

Direction

Parts of Miss Pettigrew Lives for a Day have a distinctly screwball feel -- particularly the early scenes in which Miss P. arrives at Delysia's and must immediately juggle four or five different crises for her new client. The brink-of-World War II setting, with its cocktail parties, jazz clubs, and dames in bright red lipstick, encourages that association. But director Bharat Nalluri's movie is also a touching romance with scenes of true poignancy that centers on a complex, mature heroine who knows life isn't all roses. His ability to balance the two yields a genuinely funny, accessible comedy that has some real depth to back up its lighthearted romping. Even if, like Delysia, Miss Pettigrew is only a passing presence in your life, you'll likely remember her quite fondly.

Bottom Line

Hollywood.com rated this film 3 stars.