Review Date: March 30th, 2007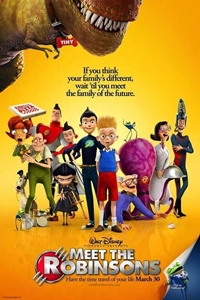 Although sometimes too frenetic for its own good, Meet the Robinsons still manages to awe and inspire with its earnest messages and digital 3-D brilliance.

Story

Based on the book A Day with Wilbur Robinson by William Joyce, Meet the Robinsons sticks to a simple plan without trying to out-think itself. We first meet Lewis (Daniel Hansen), a boy genius orphan whose love of gizmos and gadgets usually dashes his undying hope of finding a family. Just when Lewis is about to give up, he encounters a mysterious stranger named Wilbur Robinson (Wesley Singerman), who takes him on a time-traveling adventure of a lifetime. Zooming into the future, Lewis meets Wilbur's rather extended family--the sublimely fun Robinsons--who help Lewis discover his own limitless potential. But his incredible trip will also bring him into conflict with a villain who gives evil a bad name: The bungling Bowler Hat Guy (Stephen Anderson, who is also the director), who, along with his robotic hat Doris, becomes a threat to the future only Lewis and Wilbur can stop.

Acting

Meet the Robinsons is another animated film in the span of two weeks that isn't relying on A-list actor antics (the other being TMNT). In fact, the Robinsons own a robot who looks suspiciously like the robot Robin Williams voiced in Robots--but Robin's booming vocals are no where to be heard. It's sort of refreshing, actually, since sometimes knowing a big star is doing the voice distracts from the action. As it is, Robinsons does have the vocal talents of actors such as Angela Bassett, as the kindly orphanage owner; Laurie Metcalf, as the wacky inventor from Inventco Labs and one of the judges as Lewis' science fair; and Adam West (TV's Batman), as Wilbur's superhero uncle/pizza delivery man. Probably the best characters are the mobster frogs, who dress and sing just like Sinatra, Dino and the rest of the Rat Pack.

Direction

Walt Disney Animation finally does one right. Ever since they first distributed Pixar's movies, Disney flicks they've made themselves have paled in comparison. But now with Pixar's John Lasseter running the Mouse House operations, things have finally clicked with those the Disney folk. Meet the Robinsons mixes a heartfelt story, á la Pixar's efforts, with extremely innovative 3-D animation. I mean, I remember the days they used to hand you those flimsy cardboard blue/red glasses and the screen would flash, "Put Your Glasses On!" just as something poked out at you. Most of the times, the effect wouldn't even work very well. Not anymore. Robinsons first-time director Steve Anderson, along with Head of Story, Don Hall (who also provides some voices), were given free reign on this rather unprecedented process and make Meet the Robinsons' whole newfangled digital 3-D technology truly an interactive experience. Of course, once they get going with this stuff, it's hard to stop, so some of Robinsons is almost TOO busy. Still, fun should be had by all.

Bottom Line

Hollywood.com rated this film 3 stars.