Review Date: December 14th, 2007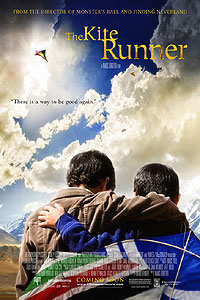 Faithful to the bestselling novel on which it's based, The Kite Runner is a thoughtful, often heart-wrenching, story about betrayal and redemption.

Story

On the eve of his first novel's publication, San Francisco writer Amir (Khalid Abdalla) is called back to the Middle East for a chance to make childhood wrongs right. An extended flashback set in late-'70s Kabul, Afghanistan, introduces young Amir (Zekeria Ebrahimi), the bookish son of a forceful, respected businessman (Homayoun Ershadi) who despairs over his son's tendency to let his loyal friend/servant, Hassan (Ahmad Khan Mahmidzada), fight his battles for him. On the fateful day of the citywide kite-fighting tournament, Amir's inability to stand up to bullies has heartbreaking consequences for both him and Hassan. Soon after, Amir and his father flee the invading communists, eventually ending up in California. Time passes, but Amir's guilt doesn't fade--so when a long-lost family friend offers him the chance to redeem himself, he returns to the city of his birth to face many difficult truths.

Acting

One of the best things The Kite Runner has going for it is its cast of virtual unknowns; since none of them are familiar faces to American audiences, it's much easier to become wholly absorbed in their story. Abdalla is earnest and solemn as grown-up Amir. Both haunted by and determined to forget about his terrible betrayal, he's often hesitant and unsure of himself (except when he meets the woman who will become his wife and courts her in a series of charming scenes). More charismatic is Ershadi, who imbues Amir's father with the perfect mix of honor, ferocity, and sentiment. And top honors go to the boys who play young Amir and Hassan. Making their screen debut (along with co-star Elham Ehsas, who's coldly menacing as bully Assef), Ebrahimi and Mahmidzada are natural, genuine performers who make their characters' complicated friendship both believable and heart-wrenching.

Direction

With a resume that includes the tragic (Monster's Ball), the sentimental (Finding Neverland), and the surreal (Stranger Than Fiction), it's clear that Marc Forster isn't wedded to any particular style or genre. Which is fitting, since The Kite Runner is so many things at once: a coming-of-age story, a sweet romance, a gripping war drama. Forster does a good job of balancing the story's many needs, staying faithful to Khaled Hosseini's novel while also streamlining it to keep things moving. As in the book, the movie's glimpses of a (relatively) liberal, prosperous '70s Afghanistan are particularly compelling; audiences who only think of the country in the context of the ultra-conservative Taliban rule (and subsequent U.S. occupation) will be entranced. Later, when Amir returns home to find fear, despair, and dusty emptiness, it's impossible not to mourn right along with him.

Bottom Line

Hollywood.com rated this film 3 stars.