Review Date: October 2nd, 2007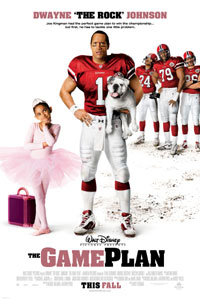 This Disney fluff isn't going to score any touchdowns, but by following a lighthearted Game Plan, it should stack up points with the family set.

Story

The Boston Rebels' quarterback Joe Kingman (Dwayne ''The Rock'' Johnson) is known as one of the toughest, most skilled NFL players to ever take the field; he's also probably the most self-absorbed. But his seemingly perfect bachelor life is suddenly thrown for a loop when he discovers Peyton (Madison Pettis), the 8-year-old daughter he never knew existed, on his doorstep. Oops. Now, instead of supermodels and late night parties, Joe has to deal with baby dolls and bedtime stories--and it isn't easy. But as the championship grows nearer, Joe is about to realize what really matters has nothing to do with money, endorsements or even touchdowns--it's all about being selfless and winning the heart of the one little fan who turns out to count the most. Collectively now: "Awww!"

Acting

The Rock is Disney's poster boy these days, which must suit him just fine. He knows his limitations, and playing a formidable football player whose heart is softened by a little girl's love is just his cup of tea. And as the precocious Peyton, Pettis (Disney Channel's Cory in the House) hits all the right beats—feisty, cute, handy with the frilly arts and crafts and ballet tutus. There's also Roselyn Sanchez as a ballet-school owner and Joe's potential love interest/sparring partner, especially since she doesn't even know who he is when they first met. The only one in The Game Plan who is sorely out of place is Kyra Sedgwick (TV's The Closer) as Joe's hard-edged mega-agent, a no-nonsense woman who only wants to milk whatever she can out of Joe's fame. The talented actress is obviously too good for the material, but to compensate, she actually overdoes it. Might be better just to stick with the TV gig.

Direction

Director Andy Fickman (She's the Man) follows a pretty standard playbook in guiding his Game Plan. There's no fancy footwork in this movie—just basically get the ball, pass the ball and gain the yards. It's straight, clean wholesomeness. In fact, Game Plan is reminiscent of the old-school Disney live-action flicks of the '60s and '70s, such as The Parent Trap. Coincidentally, Fickman is also set to direct Witch Mountain, the update of Disney's 1975 Escape to Witch Mountain, which will also star The Rock. Game Plan isn't anything more than a pleasant way to spend an hour and half with your kids at the movie theater, especially if it's a father-daughter outing.

Bottom Line

Hollywood.com rated this film 2 1/2 stars.