Review Date: November 14th, 2008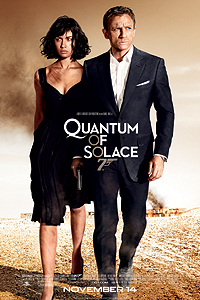 Tons of chases and the shortest running time of any 007 flick, you won't be bored but it's more Bourne than Bond this time.

Story

Shedding many of those trappings that make a James Bond movie, well, a James Bond movie, Quantum of Solace is really the first sequel ever in the long-running series. While it's always exciting, something gets seriously shaken and stirred in the translation. Picking up exactly where the brilliant Casino Royale left off, we see Bond (Daniel Craig) trying to get to the bottom of why his love Vesper Lynd had to die, jumping right into the first of many, MANY chases as he traverses six countries. Still on rogue patrol, Bond then inadvertently meets the crafty and gorgeous Camille (Olga Kurylenko), who introduces Bond to the evil Dominic Green (Mathieu Amalric), the head of an eco-phony stealth operation angling for some prime desert land while financing a crooked Bolivian general's planned coup. With the ever resourceful M (Judi Dench) trying to keep him in line at all times, Bond must put his revenge plans on hold, as he crosses paths not only with Greene and his fake pro-environment front but also the intriguing and mysterious group known as Quantum.

Acting

In this outing, Daniel Craig -- leaner and meaner than any previous Bond -- really becomes a man of single-minded determination and grit. He's less like the James Bond we know and love and more a humorless killing machine like Jason Bourne (those two should really get together). Still, Craig is such a compelling actor that we are with him all the way even if he doesn't go for the suave Bond moves. Olga Kurylenko is a great foil but not totally in the tradition of a Bond girl. A later encounter with Gemma Arterton, as a British agent in Bolivia, does, however, briefly recall the heyday of Goldfinger. Judi Dench has taken the perfunctory role of M and turned it into a full-blown supporting role. Her dry wit and take-no-prisoners attitude is welcomed every time she shows up on screen. French star Mathieu Amalric (The Diving Bell and the Butterfly) doesn't really pull off his villainous alter-ego ecologist, while Jeffrey Wright is pretty much wasted as U.S. agent Felix Leiter. At least, Giancarlo Giannini returns for some nice moments with his Craig.

Direction

Although they usually leave the challenging job of steering the Bond ship to an English director, oddly this time the baton was handed to Marc Forster, known more for his intimate dramas such as Finding Neverland and Monster's Ball. His grip on the action sequences is secure, but he never really seems to have a handle on what distinguishes this legendary movie spy from everyone else. There's a reason Bond has survived as a screen icon for almost half a century, but the sort of workman-like filmmaking Forster displays here does not represent 007's finest hour. It's almost like the producers had a checklist: car chase on winding roads; boat chase; airplane chase; rooftop chase -- all check. Quantum of Solace is definitely worth checking out, however. I mean, it IS Bond, and we wait for these movies on bated breath. Just maybe next time, a little less Bourne, please.

Bottom Line

Hollywood.com rated this film 3 stars.