Review Date: December 29th, 2006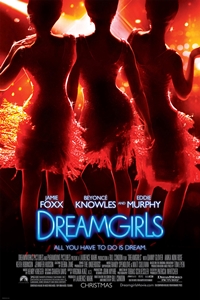 Even when the awe-inspiring Jennifer Hudson isn't on screen, Dreamgirls will proceed in taking your breath away—that from a confessed musical-phobe. And while it may not be the year's best movie, it sure seems like the year's Best Picture.

Story

Set in the early 1960s, Detroit is just starting its reign as America's music headquarters. One of countless groups to dare dream of fame in the Motor City is the Dreamettes—consisting of lead singer Effie (Jennifer Hudson), Deena (Beyonce Knowles) and Lorrell (Anika Noni Rose). And one of countless opportunists to try and capitalize on realized dreams is car salesman Curtis Taylor (Jamie Foxx). Before long, all four are well on their way once Curtis signs the trio after seeing them at a talent show and lands them a coveted gig backing up singing sensation James "Thunder" Early (Eddie Murphy). With their ascension in full swing, there is but one minor tweaking in order to help the group's mainstream appeal: Effie is to be demoted to back-up singer in favor of the gorgeously svelte Deena, who admits her voice doesn't measure up to Effie's. It marks the beginning of Curtis' commandeering of the product that is now the Dreamgirls—as well as the beginning of the end of the dream.

Acting

Even worse than trying break into showbiz out of nowhere is trying to do so as a onetime American Idol castoff. But when someone has as much talent as Jennifer Hudson clearly does, there are no barriers. Hudson explodes onto the acting scene with maybe the best debut performance of the generation, despite the studio's apparent decision to tout Beyonce over Hudson as the lead actress (for awards/financial/popularity purposes)—which, irony would have it, happens to mimic uncannily the film's plot. Luckily, it doesn't matter. Hudson's singing scenes will leave even the staunchest musical-phobes breathless. It becomes clear, as she sings and acts circles around everyone else and with such raw emotion, that this is no one-hit wonder—she's the real deal. Knowles gives easily her best performance to date, displaying more than her just her pipes and other, er, assets. She shows a strong acting side, but it's still not yet Oscar-strong. Could be a different story for Murphy. After his long string of money-driven roles, Murphy, as a James Brown-type character, reminds us why he shot to stardom so many years ago: unparalleled energy and charisma. And Foxx continues to show off his astounding versatility, this time singing and playing the villain of sorts. Betcha can't name another actor who wouldn't draw giggles from the audience if he were to suddenly break into song.

Direction

Movie musicals are just a whole different beast. Assuming a musical is being adapted from a stage production—Dreamgirls was a Tony-winning Broadway hit directed by the late Michael Bennett—the director must, above all else, possess keen attention to detail. That's only the tip of the iceberg for someone trying to bring Broadway to the big screen. In short, the director must strike a balance between integrity and the box office unlike ever before. Enter Bill Condon, beloved director of Kinsey and Gods and Monsters and, most importantly, writer of Chicago—and possessor of all the aforementioned prerequisites. He had the pedigree going in, as well as the Broadway contingency on his side. In the end, he succeeds in all areas while occasionally falling victim to the usual traps of movie musicals, such as storyline and ambition overkill. As always, however, Condon doesn't neglect anything, and manages to bring us to the stage, all of its splendor intact. As for the ol' song and dance, it comes early, often and with a bang. Those not in the mood for all that jazz...still might have no choice but to love the movie! And rightfully so, the musical numbers, for which we can thank Condon (and the choreographer), are what will net Dreamgirls the Oscar(s)—that, and the powerful performances.

Bottom Line

Hollywood.com rated this film 3 1/2 stars.