Review Date: September 29th, 2006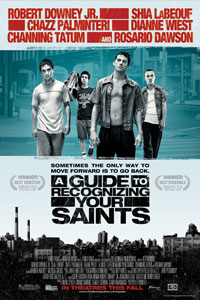 Chaos, grit, and bravado run rampant through the streets of 1986 Queens in writer/director Dito Montiel's well-acted A Guide to Recognizing Your Saints, an adaptation of his own memoir.

Story

Structured as a flashback told by successful writer Dito (Robert Downey Jr.)--as he prepares to go home for the first time in 15 years to make amends with his ailing father, Monty (Chazz Palminteri)--A Guide to Recognizing Your Saints follows teenage Dito (Shia LaBeouf) and his restless, aimless friends as they cruise the streets of Astoria, looking for something to care about. Over the course of one sweltering summer, Dito finds himself caught between two possible outcomes for his life. If, like his troubled boyhood friend, Antonio (Channing Tatum), Dito stays loyal to his neighborhood and his family, his future will most likely be a lot like his present--gritty, violent, and provincial. But if he lets himself believe in his new friend Mike's (Martin Compston) dreams of success and freedom in far-away California, he'll break his father's heart.

Acting

One of the movie's greatest strengths is its excellent cast. LaBeouf, who's been getting good reviews since his days on the Disney Channel's Even Stevens, clearly has the chops for mature drama as well. Dito's conflicting instincts--fight or flee?--inform LaBeouf's entire performance, whether he's professing his love for feisty Laurie (Melonie Diaz), threatening flamboyant entrepreneur Frank (Anthony De Sando, who brings some welcome humor to the film), or melting down during a tumultuous kitchen scene. Palminteri's blustering affection makes you understand why Dito both loves and is smothered by his father, and Tatum is all bravado as Antonio, who's been abused for so long that he clings to Dito's family like it's his own. Veterans Downey and Dianne Wiest (as Dito's long-suffering mother, Flori) turn in brief but memorable performances as well.

Direction

Given his pedigree as a writer, it's no surprise that Montiel's script is powerful and realistic, filled with chaos and pathos. But for a first-time director, he shows a remarkably sure hand behind the camera, too. Once you wrap your head around the fact that a movie set in 1986 can be considered a period piece, you realize how well Montiel has created a sense of place--you can practically smell the sweat and dirt and greasy food that permeate Dito's world. All of that said, A Guide to Recognizing Your Saints isn't perfect--it's not too hard to guess where the plot is headed (Dito himself spills some of the details up front), and some of the violence and language strays into the realm of gratuitousness instead of ''evocative detail.'' But as an examination of one boy's pivotal decision about whether to take the path less traveled by, it's both thoughtful and resonant.

Bottom Line

Hollywood.com rated this film 3 stars.