Review Date: August 31st, 2007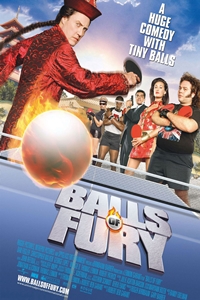 The surprisingly funny Balls of Fury's tagline may read, "A Huge Comedy with Tiny Balls," but it has some big, brass ones, too.

Story

Within the whole sports genre, we really haven't seen a Ping-Pong movie before—especially one portayed in such a spectacularly goofy way. Former child Ping-Pong prodigy Randy Daytona (Dan Fogler), who was unceremoniously defeated decades ago, is now reduced to performing ball tricks on stage at a local bar. But Randy's luck changes when FBI Agent Rodriguez (George Lopez) recruits him for a secret mission: to ferret out FBI's Most Wanted, arch-villain and Ping-Pong connoisseur Feng (Christopher Walken), the man who killed Randy's father. But times have changed since Randy choked, and Ping-Pong is now played in an unsanctioned, underground, and extreme kind of way. Randy has to get into shape with the spiritual guidance of a blind Ping-Pong master named Wong (James Hong) and his kickass niece Maggie (Maggie Q) in order to make it to Feng's mysterious jungle compound to play in the most unique Ping-Pong tournaments ever staged. Randy has his work cut out for him, though, if he's going to wield his paddle and triumph over rampant wickedness.

Acting

Who is this Dan Fogler guy and why haven't we seen him before? Apparently, he's been on stage, winning a Tony Award for his work in the Broadway play The 25th Annual Putnam County Spelling Bee, among other things. Now Hollywood is beckoning—and it looks like Fogler has the chops to stick it out. Sort of a cross between Jack Black and Meatloaf, the actor totally makes Balls of Fury's campiness work. He also has lots of help from his fellow players: Lopez is hilarious as the FBI agent who has been working a desk job but fancies himself a James Bond; veteran Asian actor Hong gets to use chopsticks in some interesting ways as the sage but cantankerous Wong; the hard-bodied Maggie Q (wonder what the ''Q'' stands for), who up to this point has only kicked butt in action movies like Live Free or Die Hard and Mission: Impossible III, plays it light in Balls; and, of course, Mr. Walken as the evil Feng, doing his own impression of any Bond villian you can think of while still being Christopher Walken. That man has WAY too much fun in this film. Also look for loads of cameos by recognizable folks.

Direction

Director/co-writer Robert Ben Garant and his screenwriting partner, actor Thomas Lennon (who plays Randy's hysterical uber-Nazi Ping-Pong rival, Karl Wolfschtagg), certainly have a peculiar sense of humor, something they created while working on MTV's The State's sketch comedy back in the '90s and then cultivated on their Comedy Central show Reno: 911!. They've gone PG with writing credits such as Night at the Museum and The Pacifier but have gotten R-rated, especially with the Reno 911: Miami big-screen effort. Balls of Fury falls somewhere in between (that would be PG-13)--a mixture of James Bond, bad martial-arts films, Matrix-like slow-mo effects, and just about any sports movie starring Will Ferrell. In other words, for as many tiny balls that get batted around in any number of silly ways, if you buy into their particular brand of comedy (like me), Balls of Fury will keep you in stitches. Oh, and if you're a Def Lepperd fan, you'll also be pleased with the soundtrack.

Bottom Line

Hollywood.com rated this film 2 1/2 stars.