Review Date: December 25th, 2006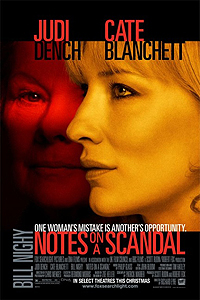 Notes on a Scandal is a wonderfully salacious and psychologically controlling character piece, which brilliantly showcases two of the industry's more gifted actresses.

Story

Based on the prize-winning novel by Zoe Heller, Notes on a Scandal is a case study in obsessive relationships. When Sheba Hart (Cate Blanchett) joins a London secondary school as the new art teacher, fellow teacher Barbara Covett (Judi Dench), who rules her young charges with an iron fist, senses a kindred spirit—and perhaps salvation to her lonely existence. But as Barbara notes in her acerbic diary, she is not the only one drawn to the luminous Sheba. She soon begins an illicit affair with one of her high school students (Andrew Simpson), and Barbara suddenly becomes the keeper of Sheba's secret. Barbara could expose Sheba to both her husband (Bill Nighy) and the world, but instead Barbara manipulates it for her own nefarious and selfish reasons. And in playing this dangerously compulsive game, Barbara's own secrets come tumbling to the fore, exposing the deceptions at the core of each of the women's lives.

Acting

Dench and Blanchett give tour-de-force performances yet again. Blanchett's natural effervescence provides the beacon for all the wanted—and unwanted—attention Sheba receives, but it's her fragile emotional state that draws you in. Played like a wounded butterfly, Sheba is too weak to either stave off a dalliance with the young gent—played with convincing lustfulness by newcomer Simpson—or tell the stifling Barbara to bugger off, despite the consequences. Then there's Dench as Barbara, representing the opposite end of the spectrum as Notes' driving force. She's a bull dog, whose withering glares stop her students in their tracks and cutting remarks slice her fellow colleagues to bits, all punctuated by her caustic running commentary. Still, when Barbara turns madly obsessive, with her soft underbelly eventually exposed, she crumbles with the best of them. And the best part of Notes is watching these two brilliant actress go toe-to-toe for the first time on film. The underrated Nighy also does a fine job, ditching his Pirates of the Caribbean's tentacles to play Sheba's down-to-earth yet hapless husband. A top-notch cast all around.

Direction

Director Richard Eyre is no stranger to crafting intimate, pro-actor dramas, having helmed such films as Stage Beauty and the Oscar-nominated Iris. He understands where to move the camera to best frame his players, as they pour their hearts out on screen. And with Notes on a Scandal, Eyre knows that besides his two leading ladies, the real star of the film is playwright/screenwriter Patrick Marber's superb adaptation of Heller's introspective novel. Voice-over narration is always a tricky film device, but for Notes on a Scandal it's absolutely essential, and Marber faithfully captures the inner-workings of Barbara's skewed thoughts, which she fervently writes down in her diary, in such delectable ways. Then, he entwines the twisty events around these two women. Much like his other work, including the exquisite Closer, Marber hands in another true gem. Combined with all this is another haunting, pulse-pounding score from Philip Glass (The Hours), who sets the tone so perfectly. Notes on a Scandal is definitely one for the Academy Awards' books.

Bottom Line

Hollywood.com rated this film 4 stars.