Review Date: May 12th, 2006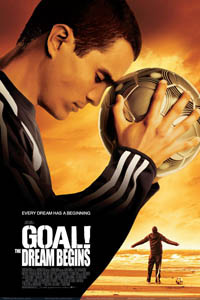 While trying to tell a heartfelt story about going for your dreams, the long-winded Goal! The Dream Begins unfortunately misses the net when it comes to any dramatic effect.

Story

After immigrating to Los Angeles from Mexico, Santiago Munez (Kuno Becker) and his family are struggling to make ends meet. While his father has big plans to own a lawn care service, Santiago's big dream is to play soccer. During a game in L.A., Santiago gets his break when he meets Glen Foy (Stephen Dillane), a former footballer and scout for the Newcastle Team in England. Promising Santiago a tryout if he can get to England, Glen sticks his neck out, over and over again, to prove that Santiago is just as good, if not better than most members of the team. Finally, he gets Santiago a one-month look-see. When it starts out shaky, the newest (and most well paid) member of the Newcastle Team, Gavin Harris (Alessandro Nivola) takes Santiago under his wing and helps him prove his undeniable talent.

Acting

It's not hard to see why Becker is one of the most recognized stars in the Hispanic television market--and judging from his skills in Goal!, he could crossover into the U.S. very easily. As Santiago, Becker is able to make you feel his pain and struggle, particularly through his smoldering eyes. In one powerful scene, Santiago pleads with his father to let him take his shot at pro soccer--leaving the audience in a puddle as he pours his emotions out. You might have expected a little more from British thesp Dillane (The Hours), however, as the man who discovers Santiago. His lack of energy is evident in almost every scene he is in. On the other hand, American Nivola (Laurel Canyon) has the English bad boy act down pat. Wished there was more of him on screen.

Direction

Director Danny Cannon, best known for I Still Know What You Did Last Summer, misses the mark with Goal!, the first in a trilogy about soccer. For a sports movie, there just isn't enough excitement. Instead, the rags-to-riches story drags on and on. Many of the film's elements seem tacked on and then later forgotten or watered down, things that could have helped develop Santiago's character more. Then, by the time we get to the highlight of the movie--the BIG soccer match--you're left twiddling your thumbs, waiting for it to be over instead of standing up and cheering when Santiago makes the winning GOOOOOOOOAL! Pity. Let's just hope the next two movies are better.

Bottom Line

Hollywood.com rated this film 2 stars.