Review Date: November 17th, 2006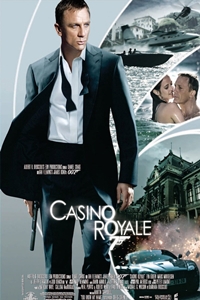 If there must be a grittier, more human --and, dare we say, even more vulnerable--James Bond, then Daniel Craig is all THAT and a bag of chips. Kudos to the new Bond regime.

Story

Casino Royale starts at the beginning, as James Bond (Craig) takes his first baby steps as a Double O agent. His first assignment is to track down a terrorist cell in Madagascar, but he's a bit of a loose cannon, and things quickly go awry. Bond's superior M (Judi Dench) is soon regretting giving the arrogant Bond the promotion. Nonetheless, Agent 007 takes it upon himself to follow a lead to the Bahamas and discovers that all nefarious dealings point to Le Chiffre (Mads Mikkelsen), a nasty fellow who has money ties to terrorist organizations. Le Chiffre is planning to raise money in a high-stakes poker game at the Le Casino Royale in Montenegro—and Bond gets in to beat him at his own game. Along with a hefty bankroll, M also sends the beguiling accountant Vesper Lynd (Eva Green) to keep Bond in check. They are skeptical of each other at first, but as the danger escalates, it becomes apparent there is a growing attraction—and affection—between them. Natch. Can these two crazy kids make it work immersed in the cutthroat world of international intrigue? Well, this is Bond after all—and we know how he ends up.

Acting

Craig absolutely gets it. Whatever doubts people may have had when Craig was first announced as the new Bond are washed away in the first few minutes of the film. Sure, if Casino Royale was anything like the last few Bond movies, then maybe the understated Craig wouldn't have fit in as well. But this is a different Bond. The British actor plays him not as the icon we've come to know but as a flawed man, warts and all, who flies by the seat of his pants, isn't necessarily refined and yes, can even fall in love. Craig also raises the acting bar. His brief scenes with the impeccable Dench, for example, simmer and pop, unlike anything we've seen before in a Bond film. Danish film star Mikkelsen (Pusher) is quite effective as the main baddie, with a particularly gruesome physical malady, while the always good Jeffrey Wright (Syriana) shows up as CIA Agent Felix Leiter. The one weak link, unfortunately, is Green (The Dreamers). She certainly looks the part of a "Bond girl," but her Vesper is supposed to be whip-smart, able to engage in witty banter with 007, and the French actress can't quite pull it off. Craig needs more of a challenge. Too bad Judi Dench isn't 30 years younger; she would have been perfect.

Direction

Casino Royale, the first book in the Ian Fleming series, is basic Bond 101. Director Martin Campbell--who helmed Goldeneye, Pierce Brosnan's first and probably best foray into the franchise--strips it of all the far-fetched gadgets (save for a few new-fangled PDAs) and over-the-top action sequences, leaving just good, clean action devoid of any invisible cars, armored Russian tanks and the such. Oh wait, Bond does use a bulldozer at one point, but that comes briefly in the middle of a rather extensive and hair-raising foot chase. It just proves action can be just as riveting without having to completely suspend your disbelief. Casino Royale is also rare in that it shows how Bond became THE James Bond, the one we've seen in countless movies over the years in the stylish tuxes, drinking the martinis, driving the Aston-Martins and bedding all the beautiful women. Casino Royale breathes new life into the franchise, and one can only hope they can keep up the good work without once again lapsing into the ridiculous.

Bottom Line

Hollywood.com rated this film 3 1/2 stars.