Review Date: September 15th, 2006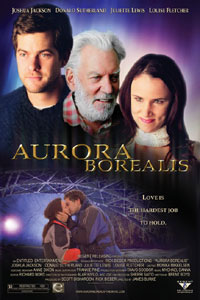 Aurora Borealis is a genuine, touching and funny story about life, death and family, as a slacker without motivation finds meaning through his dying grandfather.

Story

Duncan Shorter (Joshua Jackson) is being fired from another job. Unlike his successful brother, Duncan hasn't quite dealt very well with the untimely death of his father 10 years before. But while reluctantly visiting his ailing grandparents, Ronald (Donald Sutherland) and Ruth (Louise Fletcher) in Minnesota, Duncan ends up taking a job as an assistant handyman at the apartment building where they live. A new cute homecare nurse, Kate (Juliette Lewis), who helps his grandfather, provides extra incentive. Kate grows concerned that grandpa Ron is falling further into dementia as he claims he can see the Northern Lights from the balcony of their apartment, and although she is entranced with Duncan, she does have a habit of moving on, and she's itching to head to sunny San Diego.

Acting

Jackson is already winning awards for this on the film festival circuit and proves that his TV personality from Dawson's Creek can easily translate to an appealing box office persona. He's a true star and carries things on his own, even up against a heavy-hitting cast of veteran actors. Sutherland plays his best curmudgeon as Ron, a frustrated old man, and Duncan's childhood pals all have their own personalities and character quirks even in their limited roles. Only Lewis comes across as a bit affected, with an off-beat speech pattern that is jarring and increasingly irritating. She's not nearly as captivating as the role calls for.

Direction

Aurora Borealis has such a strong Minnesota influence that the local jokes running through it give the film a true Americana feel. Director James Burke frames the locale as if he's showing a family photo album. Local native music from homeboys like Bob Dylan and Paul Westerberg permeate the soundtrack also help give it a local flavor. It seems like a lot of movies these days are dealing with young men dealing with the deaths of their dads, but this one doesn't come across as maudlin or overly dramatic as some of the others. This is a gem of a discovery, and an impressive first feature for a promising new talent.

Bottom Line

Hollywood.com rated this film 3 1/2 stars.