Review Date: February 20th, 2004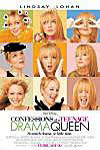 Confessions of a Teenage Drama Queen is a lively production about teenage angst, rock idol crushes and life lessons, populated with splashy musical numbers and great costume changes. Its perfectly suited for adolescent girls--and that's about it.

Story

Everything is just oh-so-dramatic for 15-year-old Mary, aka Lola (Lindsay Lohan), who is uprooted from her beloved New York City by her artist mother (Glenne Headly) and forced to live in what she thinks is the dregs of New Jersey suburbia. Once there, however, the wanna-be actress decides she'll make a difference in her high school, and stand out among the common folk and show them what true art is all about. Of course, with an attitude like that, Lola immediately gets on the bad side of the school's most popular--and mean-spirited--girl Carla (Megan Fox) but makes fast friends with the meek Ella (Alison Pill) when they both discover they worship the same rock band called Sidarthur. Lola soon proves with unstoppable determination that whatever Lola wants, Lola gets; she stands up to the evil Carla, wins the lead role in the school musical and has the adventure of a lifetime trying to see a Sidarthur concert in New York with Ella. Yet, Lola comes to realize that while being the premiere drama queen, she sometimes has to come back down to earth to see what really matters in life.

Acting

Lindsay Lohan, a Disney favorite who has truly become the Hayley Mills of this generation, has the same bebop freshness she displayed in other Disney fare, including last year's mega hit Freaky Friday, and is the best choice to play the ultimate Teenage Drama Queen. Yet, if you strip away all the sparkle and showmanship, could Lohan hold her own playing a real, honest-to-goodness dramatic role? At least the actress has far more potential than, say, that other teen fave, Hilary Duff (who supposedly has a real-life feud going on with Lohan. Talk about drama). Alison Pill, on the other hand, who did a nice job playing the forgotten sister in the indie film Pieces of April, is the one to watch out for. She illustrates far more depth as best friend Ella, who is transformed from a mouse to a lion under Lola's influence. The scenes where Ella and Lola moon over Sidarthur--and the subsequent misadventure to see them in concert--gives the film its most realistic insight to a teenage girl's psyche--and the girls seem to have a great time connecting to one another. In the supporting roles, character actress Headly does a quiet, down-to-earth turn as Lola's mother, while in comparison, Carol Kane really hams it up as the drama teacher Ms. Baggoli, with the wacky hair, lispy speech and hyperactive personality.

Direction

Teenage Drama Queen is a Disney specialty. It's the kind of movie the studio is been known for and can execute the best--cutesy, over-produced teen fare with a wholesome message tied up in a brightly colored and oftentimes zany package. Back in the day, Kurt Russell and Hayley Mills were the favorites in films such as Russell's The Computer Wore Tennis Shoes and the sequel Now You See Him, Now You Don't (takes you back, doesn't it?), as well as Mills' original The Parent Trap (which Lohan went on to remake in 1998). For Teenage Drama Queen, the studio picked the up-and-coming Welsh director Sara Sugarman (Very Annie Mary), a self-proclaimed recovering drama queen herself, who infuses the film with right amount of joie de vivre while keeping things in vogue for the MTV generation, especially with the musical numbers and Lola's dream sequences. Plus, the character's wardrobes are terminally hip; even the Sex and the City gals would be impressed. But while the film is certainly not as scary as the very dark Thirteen or dull as Catch That Kid, Teenage Drama Queen doesn't offer anything poignant or remarkable beyond its glittering production value.

Bottom Line

Supported by Lindsay Lohan's effervescent performance, Confessions of a Teenage Drama Queen has a fun flair for the dramatics but ultimately is a piece of fluff targeted to a limited audience.