Review Date: March 2nd, 2005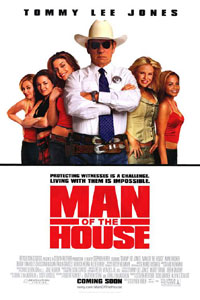 The inane Man of the House, about a Texas Ranger who has to go undercover with a bunch of college cheerleaders, doesn't have much going for it--save seeing Tommy Lee Jones doing his best to be warm and fuzzy. Yeah, I know, it's a big stretch.

Story

Roland Sharp (Tommy Lee Jones), a dedicated Texas Ranger, tracks down a key informant with the help of an ex-con turned preacher, Percy Stevens (Cedric the Entertainer). But when the informant is unexpectedly murdered, the hardheaded Sharp is assigned to protect the only witnesses to the crime--a quintet of University of Texas cheerleaders (Christina Milian, Paula Garces, Monica Keena, Kelli Garner and Vanessa Ferlito). Roland has to go undercover, moving in with the five uncontrollable co-eds while they await a trial date. Soon, the contentious Sharp clashes with the bubbly, outgoing cheerleaders, getting in the way of their love lives and social agendas. But while Sharp gets on the girls' nerves, he has even more difficulties getting close to his own teenage daughter, Emma (Shannon Marie Woodward). Still, through his experiences, he learns a few lessons about how to gain her trust and love and finding something else he didn't expect--love.

Acting

Jones just can't quite pull off the hokey story. The actor continues to exhibit his same hard-nosed, surly attitude that seems to follow him from film to film. But this time, he is surrounded by elements that just don't complement his unsociability. While he is comical in some parts, the words ''cute'' and ''heartwarming'' don't really apply to him, especially when the vivacious and spirited girls are hovering around him, trying very hard to make it work. Cedric the Entertainer (Barbershop), is hilarious and entertaining, as always, but with a movie this trite, he can't be expected to save the whole film, now can he?

Direction

When there are five credited writers on a film, you know you're in trouble. Along with being over-the-top, feel-good family mush, Man of the House also doesn't add up. You're often left scratching your head over the plot, and just when it starts to make sense, it quickly loses you again. While movies often asks you to suspend your disbelief, House almost goes unbearably too far. To top it off, director Stephen Herek (Life or Something Like It) makes only a mediocre attempt at helming the proceedings. It's as if he, too, understands what kind of muck House truly is.

Bottom Line

It is a sad when Tommy Lee Jones stars in a movie where the only draw is half-naked cheerleaders and Cedric the Entertainer. It is even sadder when the combination doesn't work.