Review Date: January 23rd, 2004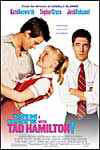 Reminiscent of John Hughes' angst-driven, romantic, '80s teen comedies like Sixteen Candles and Pretty in Pink, Robert Luketic's Win a Date With Tad Hamilton! is a thoroughly delightful, albeit predictable, piece of fluff about a small-town girl who wins a date with--and the heart of--a big-screen idol.

Story

Sweet Rosalee Futch (Kate Bosworth) is an ordinary southern girl, living in Frazier's Bottom, West Virginia, working at the Piggly Wiggly with her best friends Cathy (Ginnifer Goodwin) and Pete (Topher Grace), and dreaming about meeting her all-time favorite movie star, Tad Hamilton (Josh Duhamel). Not a chance in hell that'll happen, right? Wrong! She gets her wish when she enters a contest and wins the grand prize: an all-expense paid trip to Hollywood to go on a date with Tad, much to Pete's chagrin (he is, of course, hopelessly and secretly in love with Rosalee). Tad's agent, Richard ''The Driven'' Levy (Nathan Lane) and his manager, also named Richard ''The Shameless'' Levy (Sean Hayes), have masterminded the ''Win a Date'' contest hoping to transform Tad, a bad boy who's let fame go to his head, back into the popular boy next door. But the Richards are ill prepared for the effect the contest has on their high-profile client. Once Tad spends an evening with Rosalee, he realizes what he's missing in his life and moves to West Virginia to be near her so she can ''rub some of that goodness'' off on him. Rosalee's dream may come true, but it's a huge headache for the Richards and a nightmare for Pete, who'd better tell Rosalee how he feels soon or lose her forever. Think he'll win out in the end?

Acting

The performances in Tad Hamilton could easily have been formulaic but, fortunately, the engaging cast has enough verve and spontaneity to make you care about their characters. Bosworth (Blue Crush) has the hardest job--to keep Rosalee's sugary-sweetness from becoming too nauseating and to prove she isn't just another pretty-but- dumb hick chick. The fetching Duhamel (TV's Las Vegas) plays the two sides to Tad perfectly--the charismatic cad who gets everything he wants and the vulnerable guy who's never really learned how to cope with being in love. Then there's Grace as the adorable Pete--the real boy-next-door with his puppy-dog face and great quips. It's a persona the actor has mastered on his hit TV series That '70s Show, and it's easy to see how Pete's endearing, if slightly neurotic, personality could win you over. As for the supporting cast, Goodwin (TV's Ed) as Cathy is a breath of fresh air, while veteran character actor Gary Cole's turn as Rosalee's father, who tries to talk showbiz lingo with Tad, is hilarious. As the Richards, Lane and Hayes are as outrageously over-the-top funny as you expect them to be.

Direction

In the '80s, writer/director John Hughes was the king of the romantic teen comedies that featured a quirky love triangle between the girl, the geek and the hunk. Sure, the plot lines were generally unsurprising--and sometimes downright melodramatic--but the dialogue was zingy and the young talent sparkled. Director Robert Luketic's Win a Date With Tad Hamilton! takes audiences back to those glory days. Like Hughes, Luketic (Legally Blonde) understands the tempo a film like this requires, with quick cuts and stand-alone comic vignettes. And although Hamilton's script, by television writer Victor Levin, isn't quite Hughes' caliber, there are more than a few great lines in Hamilton (''He wants your ''goodness'' to rub off on him? He wants your ass to rub off on him!''), as well as tender moments, especially when the dejected Pete asks Tad if he ever noticed Rosalee has six different smiles. A little romantic tale like Hamilton won't win any prizes, but it is an endearing, smile-inducing film.

Bottom Line

With a posse of fresh-faced up-and-comers, Win a Date With Tad Hamilton! has enough appeal and good-natured wit to overcome its inherent flaws and charm the pants off any hopeless romantic.