Review Date: April 19th, 2002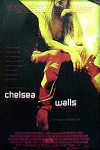 This is a crazy-quilt look at the artsy hipsters who live at or pass through New York's Chelsea Hotel on their bumpy way to elusive greatness and equally elusive romance.

Story

New York's famed Chelsea Hotel is crawling with an assortment of creative types and wannabes whose lives are in disarray. These include tortured writer Bud (Kris Kristofferson), who has beaten the bottle but not the blues brought on by love continually going bad. Former paramours Mary (Natasha Richardson), wife Greta (Tuesday Weld) and waitress Grace (Uma Thurman) could cure his terminal loneliness but won't. Other Chelsea residents not faring much better are prolific poetess Audrey (Rosario Dawson), struggling painter Frank (Vincent D'Onofrio) and Crutches (Kevin Corrigan), a druggie hanger-on appropriately on crutches. Also helping support the Chelsea Hotel's rep as a magnet for misfits are out-of-town musicians Terry (Robert Sean Leonard) and Ross (Steve Zahn), who like their company very young. There's also Lynny (Frank Whaley), who does wobbly stand-up at the local club.

Acting

It's hard to fault talented actors who have so little to work with. But such seasoned talents as Richardson, Thurman, D'Onofrio and Zahn deserve better. At least Kristofferson, as the tortured writer, rings some emotional, if familiar, truths, as does Weld, his unlucky wife. These are two vets worth a detour to the Chelsea.

Direction

Oscar-nominated actor-turned-director Ethan Hawke has surrounded himself with many of his gifted thesp friends for his directorial debut. But all this directing and acting talent is no match for playwright/screenwriter Nicole Burdette's pretentious, messy riff on the iconoclastic Chelsea characters and their questionable art. Hawke counters the mostly verbal tedium with seemingly random cross-cutting among the quirky Chelsea wannabes. Technically, ''Chelsea Walls'' advertises some of digital video's shortcomings, like graininess and a resistance to reds. But Hawke also exploits the medium for its strengths--spontaneity, funkiness and intimacy. Hawke, another wide-eyed filmmaker entertaining himself with wonderful digital toys, forgets that he also has to entertain an audience.

Bottom Line

''Chelsea Walls,'' named for the fabled New York Hotel favored by artists and iconoclasts that is the film's setting, bounces all over the place as it follows a bunch of uninteresting artsy types whose output is even more uninteresting.