Review Date: November 16th, 2007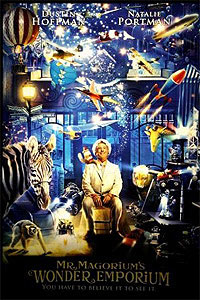 Dustin Hoffman charms in colorful fairy tale Mr. Magorium's Wonder Emporium, but despite plenty of magical moments, it's missing the extra sparkle that could make it a classic.

Story

Tucked away between shiny modern skyscrapers, quirky, old-fashioned Mr. Magorium's Wonder Emporium is a toy store literally like no other. Step inside, and a sock monkey might give you a hug--or a fire engine might appear out of nowhere. That's because the store is imbued with the enthusiasm and magical childlike wonder of its owner: frizzy-haired, 243-year-old dynamo Mr. Magorium (Dustin Hoffman). When Magorium decides it's time to move on, his designated heir, self-doubting store manager Molly Mahoney (Natalie Portman), isn't the only one who objects. The store itself throws a fit, sulking and brooding and hurling toys at unwitting customers. It's up to Mahoney--with the help of stuffy accountant Henry ''Mutant'' Weston (Jason Bateman) and eager young store clerk Eric (Zach Mills)--to discover the best way to live up to Magorium's legacy.

Acting

The movie's most pleasant surprise is Hoffman's charming performance. He could have followed in Gene Wilder and Johnny Depp's footsteps and made Magorium a fey, Willy Wonka-like sprite. Instead, Magorium is an original, a mile-a-minute chatterbox who uses big words, takes delight in the extraordinary, and never stops smiling at life. And the calm, gentle demeanor he brings to Magorium's farewell scenes with Mahoney will make a potentially tough plot twist a lot easier on kids. Speaking of Mahoney, Portman is at her best in the moments that call for wry humor and Puck-ish mischief; the more earnest the script asks her to be, the less interesting her character gets. Bateman is underused as the straight man (his lone lapse into silliness is a high point in the movie), but Mills is wholly endearing as wiser-than-his years Eric.

Direction

With so much going for it, why isn't Mr. Magorium's Wonder Emporium more magical? It's hard to say; perhaps it's something to do with the fact that the characters seem to talk about magic more than they actually interact with it. Or that, despite all of said magic, Mr. Magorium and his store never really do anything that you wouldn't expect of an eccentric bicentarian living in the ultimate funhouse. Writer/director Zach Helm gives viewers plenty to ooh and aah at (the set design is wonderful), but his story is never quite unusual or unexpected enough to transcend ''cute'' and ''sweet'' and reach ''classic.'' All of that said, with Hoffman in fine form and so many fabulous toys bouncing around the screen, kids are likely to be delighted (and clamoring to add to their Christmas lists...)

Bottom Line

Hollywood.com rated this film 2 1/2 stars.