Review Date: November 10th, 1999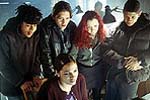 The good news about the urban youth drama "Light It Up" is that it's not another teen-lite romantic comedy a la "She's All That" and "10 Things I Hate About You." It's also not exactly "Boyz in the Hood." In the context of this decade's teen flicks, it has more in common with mid-'90s projects such as "Dangerous Minds" and "Sunset Park," with a hint of the early-'80s film "Taps" thrown in for good measure.

The story's a familiar one. Students at an inner-city high school find themselves trapped within the facility. A protest against the firing of one of their favorite teachers leads to a police officer being shot in the leg. Fearing the consequences that will follow, a group of six kids take him hostage in the school library, while their peers flee the building. Over the course of a long night, the officer and his captors try to deal with each other and the authorities outside.

The catch of the film is that the kids' demands don't include the usual perks. They're not after money or flight from prosecution. Instead, this group of normal teens asks for new books, better classrooms, a new roof and new windows for their institution. To bring light to the sad state of urban education, they ingeniously use the media and the Internet to shine a spotlight on their situation.

From the outset, it's clear that the students are a "The Breakfast Club" assortment of types. Pop superstar Usher Raymond plays Lester Dewitt, the leader of the group who's also a star on the school's basketball team. He's supported by Stephanie (Rosario Dawson), an academic overachiever; Ziggy (Robert Ri'chard), an aspiring artist; Rivers (Clifton Collins Jr.), a wise-cracking freeloader; Lynn (Sara Gilbert), a pregnant rebel; and Rodney (Fredro Starr), a rowdy, dangerous gang member.

A cast of recognizable faces rounds out the secondary characters. Forest Whitaker gives a believable performance as Officer Jackson, the downed policeman whose initial hostility toward the students softens as he learns more about their experiences. Judd Nelson plays Ken Knowles, the instructor who is fired after teaching his kids off campus. And Vanessa Williams, in a limited role, appears as a sympathetic negotiator who attempts to communicate with the kids.

The message of the film and its call for action are commendable. As entertainment, "Light It Up" is less successful. The hip-hop blend of urban dynamics, character development and thriller elements makes for an uneasy mix. The fact that films such as "The Negotiator" have already covered similar ground in better fashion doesn't help.

Writer-director Craig Bolotin does his best to energize the film with a sense of urgency. Fluid camera work, a cold and gritty production design and a contemporary soundtrack keep events interesting. But it's hard not to forget the conceits that are at work here, or to wish that a single focus had been taken more seriously. Some time is devoted to develop the characters into more than simple symbols, but the kinetic pacing of the rest of the film detracts from its credibility.

The movie's high concept is at odds with its real significance and shortchanges performances that would be better suited for an intimate drama. The issues raised are real and important. In order to feel meaningful, or less artificial, they deserve more attention than what's allotted in a 90-minute thriller-drama that emphasizes the thrills.

* MPAA rating: R for language and violent content

'Light It Up'

Lester Dewitt: Usher Raymond

Officer Dante Jackson: Forest Whitaker

Stephanie Williams: Rosario Dawson

Zacharias "Ziggy" Malone: Robert Ri'chard

Ken Knowles: Judd Nelson

Rodney J. Templeton: Fredro Starr

Lynn Sabitini: Sara Gilbert

A Fox 2000 Pictures presentation. Director Craig Bolotin. Writer Craig Bolotin. Executive Producer Kenneth "Babyface" Edmonds. Producer Tracey E. Edmonds. Cinematographer Elliot Davis. Production Designer Lawrence G. Paull. Film Editor Wendy Greene Bricmont, A.C.E. Costume Designer Salvador Perez. Music Composer Harry Gregson-Williams. Art Director Karen Fletcher Trujillo. Set Designer Kurt Sharp.