Review Date: July 30th, 2012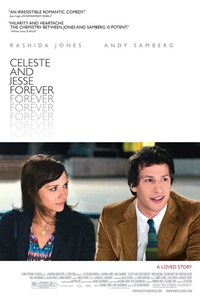 This review previously appeared as part of Hollywood.com's coverage of the 2012 Sundance Film Festival.

After adorable but limiting roles in The Office, I Love You, Man, Our Idiot Brother, and her biggest part to date, Parks and Recreation, actress Rashida Jones nabs her meatiest part to date courtesy of her own script.

Celeste and Jesse Forever, the brainchild of Jones and writing partner Will McCormick, is a romantic comedy that feels perfectly comfortable treading into honest, poignant relationship moments. It's obvious Jones co-wrote the movie, every beat tailor made to draw out her best qualities. Celeste (Jones) and Jesse (Saturday Night Live's Andy Samberg) are longtime friends, a perfect pair who eventually tie the knot and live happily for six years… until their relationship ends in divorce. But even with their impending separation, the two can't help but remain best buds. Their friends are critical of the continued companionship, but the pair work together to get back in the dating game. The journey forces the former couple to confront the truths and regrets both have harbored since first meeting.

Celeste and Jesse skips the big gags and sappy confessions in favor of grounding its characters in honest (and often uneasy) scenarios. Jones' and McCormick's script captures the kookiness ingrained in long lasting friendships, from inside jokes (Celeste and Jesse routinely play a game where they perform sex acts with random objects) to the strange customs of Los Angelenos. Quirk isn't easy to pull off, but director Lee Toland Krieger keeps the action intimate and restrained, allowing Jones, Samberg and the handful of exceptional supporting actors (including Erik Christian Olsen, Ari Graynor, Elijah Wood and Emma Roberts) to riff and joke without ever going broad.

If the movie was simply a string of hushed, comedic sketches, Celeste and Jesse Forever would fall into the familiar territory of meandering mumblecore, but Jones and Samberg elevate the material with a surprising knack for the dramatic. In one of the film's more emotionally frank moments, Jesse delvers a confession that solidifies the couple's dissipating relationship. The normally-goofball Samberg reels it back, allowing quiet expression take the stage. The film may not land every intentionally heavy moment with perfect grace, but watching two actors play against their established personas gives Celeste and Jesse extra (and exciting) punch.

Celeste and Jesse Forever is evidence Rashida Jones can deliver, both behind and in front of the screen. In the right hands, her talents can be mined to create a performance both daring and sweet. Celeste and Jesse suggests those ''right hands'' may be her own.

What do you think? Tell Matt Patches directly on Twitter @misterpatches and read more of his reviews on Rotten Tomatoes!

Hollywood.com rated this film 3 1/2 stars.