Review Date: December 9th, 2011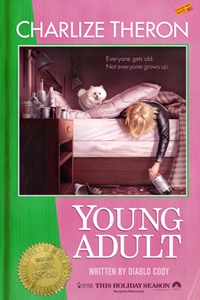 Director Jason Reitman made a very smart decision when approaching his new film Young Adult. His past two successes, Juno and Up in the Air, were stylized dramedies, one with colorful dialogue and production design flourishes, the other with precision camera work, his director's hand evident at every turn. In his latest, he pulls way back, letting his lead character—a vile, destructive, former high school prom queen named Mavis (Charlize Theron)—do the talking. And talk she does—every word a stinging insult, disillusioned wish, holier-than-thou gripe or embarrassing truth. Reitman unleashes an unfiltered Theron and the results are gut-wrenching, hilarious and powerful.

While working on her latest Sweet Valley High-esque book, Mavis receives a mass e-mail from her high school boyfriend Buddy (Patrick Wilson), announcing that he and his wife are expecting their first child. This sets a fire under Mavis' ass, and after chugging a 2-Liter of Diet Coke and throwing on a Hello Kitty tee, she hits the road to take back the man that's rightfully hers. Mavis shacks up in a drab hotel located in the heart of her small, Minnesota hometown and immediately proceeds to the bar to indulge in her favorite pastime: pounding back whiskey. There she runs in to one of her forgettable high school classmates, Matt Freehauf (Patton Oswalt), who she only recalls after being reminded of a horrendous gay bashing that left both his legs crippled (''And I'm not even gay.''). The two form an unlikely friendship—Matt being enamored by Mavis' pathetic quest, Mavis needing an ear to talk off.

Young Adult's simple premise allows writer Diablo Cody (Juno, The United States of Tara) to move Mavis from depressing suburban local to depressing suburban local with ease, creating a playground of homogenized perfection for Theron's foul behavior. Whether she open-mouth chewing on fried chicken at the local KFC/Taco Bell, covering up last night's hangover with a fresh facial or seducing Buddy at the Applebee's-esque restaurant, Mavis never falters, always looking down at her surroundings, finding excuses for why she's not the source of her own problems.

Theron's performance is fearless, one of the few crass female performances shaded with human complexity and empathy. Young Adult is a very funny film that works because of its star's ability to teeter the edge of comical and truly unlikable. Oswalt and Wilson amplify the main performance, embodying their own grounded characters to properly riff with the vulgar Mavis. Matt is a very Patton-y character to begin with, but between is jokey back-and-forths with Mavis is an inherent sadness, one Oswalt surfaces with a contrasting subtly. Unlike Mavis, Matt has the ability to rise above is own plight and change. His new friend is, tragically, a lost cause. At times, the film's story feels too narrow, never allowing us to really explore Mavis' other relationships, but it's hard to naysay for wanting more.

Few movies attempt to mine comedy out of the bleakness of everyday life; even fewer do so while twisting storytelling conventions. You watch Young Adult with hopes for Mavis, but Reitman and Cody aren't ready to indulge you. In Theron, they've found one of the few actresses in town who can simultaneously look like a conventionally gorgeous blonde bombshell and complete, make-up-caked crap, a woman with the balls to take a character who relishes in schadenfreude. They don't squander that talent. From the first to the umpteenth Teenage Fanclub sound cue, Mavis is delusional, caught up in her own fantasy and willing to execute it at any cost. It's a truly cringe-worthy mission, but it works because, sadly, we all know someone like that.

Hollywood.com rated this film 4 stars.