Review Date: March 9th, 2011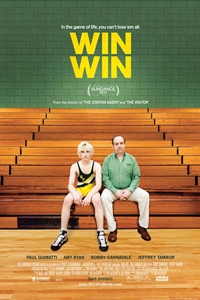 One third family drama, one third socioeconomic commentary and one third inspirational sports comedy, writer-director Tom McCarthy's Win, Win is a delight to behold even though its conclusion reinforces the notion that nice guys still finish last. But hey, it's true, and though a handful of recent films have tried to reflect on the pulse of the nation, this bittersweet dramedy may be the closest thing to an honest depiction of the state of contemporary American communities.

Guided by easily executed but entertaining performances from Paul Giamatti, Bobby Cannavale and Amy Ryan, the film centers on Mike Flaherty, a disheartened New Jersey attorney struggling to keep his practice afloat in this volatile financial climate. In his spare time, Mike jogs with his best friend Terry and moonlights as coach to a fledgling high school wrestling team, but his life changes dramatically when he pursues a questionable opportunity to score some quick cash. Before long the teenage grandson (Alex Shaffer) of one of his clients (Burt Young) shows up at his doorstep and that's when things get complicated and interesting.

The script is the films core strength, combining likable characters and cool middlebrow comedy with a touching and relatable story. McCarthy's writing subtly tickles the funny bone without taking away from the movie's moral dilemma and discretely balances its poignant and humorous moments. Even at its most dramatic point, when young runaway Kyle's rehabilitating mother (Melanie Lynsky) enters the picture in an attempt to take her son and unhinged father (plus his money) back to Ohio, the filmmaker never gets melodramatic. He honors the integrity of his characters and the themes of his story by letting the action play out candidly, a stylistic trademark of the man behind The Visitor and The Station Agent.

Like those past productions, this film's cleverly crafted characters are the kind you'd instantly warm up to. Individually, they're flawed but endearing; collectively they put the "win" in Win, Win. Giamatti's everyman is a respected pillar of his community who struggles with the decision to use a client for his commission and the Oscar-nominated actor gives Flaherty enough of a conscience to keep you rooting for him even if you can't condone his actions. Cannavale steals most of his scenes as the blunt and charismatic Terry, who starts to live vicariously through Kyle and the wrestling team as a way to cope with his own problems. A McCarthy alumnus, he got the writer's funniest dialogue and delivers it nonchalantly, turning in an effortless and infinitely enjoyable portrayal of a down-on-his-luck divorcee. I was very impressed with newcomer Shaffer, who nails the disaffected teen bit while managing to be somewhat unpredictable. He was in good company on this movie and was able to hold his own with some great actors, so I'll be following his next moves with interest.

It's not a standout film, technically speaking, but Win, Win has a whole lot of heart; enough to lift the spirits of any moviegoer who might find themselves in Mike's shoes. But as an examination of the consequences of one's actions, it also avoids a cookie-cutter conclusion that would detract from its realism. There are very few easy resolutions in the world and even less in this movie, but that's life. And though it's far from a "feel-good film,'' Win, Win definitely feels right.

Hollywood.com rated this film 4 stars.